U.S., China Rattle Trade-War Sabers in Vowing Harsh Tariffs
(Bloomberg) -- The world's two biggest economies threatened punishing tariffs in the opening shots of a trade war, with Beijing vowing to retaliate "forcefully" against President Donald Trump's pledge to slap duties on another $200 billion in Chinese imports. Global stocks declined amid little sign of negotiations to resolve the dispute.
In remarks in Washington on Tuesday, Trump signaled skepticism that talks with China will work to end the disagreement.
"We have to do something about it. Now, maybe something happens where they come and they say, 'we agree, it's been unfair for the last 25 years,"' he told the National Federation of Independent Business. "But somehow that doesn't seem to work so easily. But we're going, and we're going to make it fair."
Trump on Monday evening ordered up identification of $200 billion in Chinese imports for additional tariffs of 10 percent -- with another $200 billion after that if Beijing retaliates. While the $50 billion in tariffs already announced on Friday were mainly on industrial goods, the broader move would push up prices for toys, tools, t-shirts and a lot more for U.S. shoppers.
China promised to retaliate. "If the U.S. loses its senses and publishes such a list, China will have to take comprehensive quantitative and qualitative measures," according to a statement from the Ministry of Commerce. It labeled the move "extreme pressure and blackmail."
Equities fell around the world as the threat of a tit-for-tat trade war came closer to reality. The S&P 500 Index slipped 0.4 percent, and prices of agricultural commodities including soybeans and hogs fell more than 2 percent. The benchmark index of Chinese stocks fell almost 4 percent, as other Asian share markets declined. Safe havens including the U.S. dollar and Treasuries climbed.
"Its psychological effects, its effects in increasing uncertainty, could be very serious and we're certainly getting later in a cycle of escalation," former U.S. Treasury Secretary Lawrence Summers said in an interview on Bloomberg Television.
By targeting goods that are finished in China but whose components are often sourced from neighboring South Korea, Japan and Taiwan and more, the U.S. strategy could hurt the economies of America's allies too.
There are dangers for the U.S. economy too. If implemented, the tariffs would mean a sizable amount of imported Chinese goods would be exposed to new tariffs. Higher prices on imported goods could dampen consumer sentiment and pressure inflation.
Trump administration officials have played down the impact of trade tensions, saying solid economic growth will offset higher prices and increased uncertainty. White House trade adviser Peter Navarro said the government is working on measures to soften the blow to farmers and companies hit by Chinese retaliation.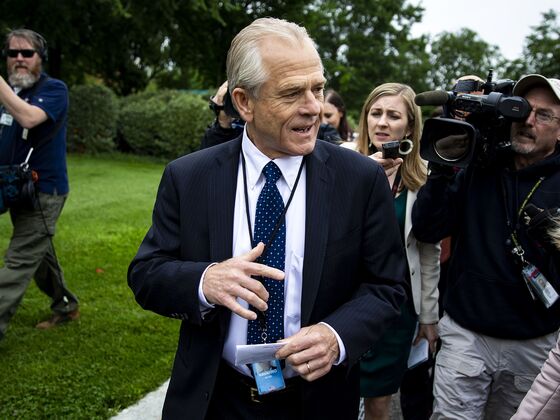 The People's Bank of China is using both money and words to try to ease market concerns about escalating trade tensions and the weakening economy. It injected another 200 billion yuan ($31 billion) into the economy via its medium-term lending facility on Tuesday, pushing its net injections so far in June to the most in any month since December 2016.
The escalation in trade tensions comes at an inopportune time for China's policy makers, with indicators for May suggesting growth is already dialing back a notch.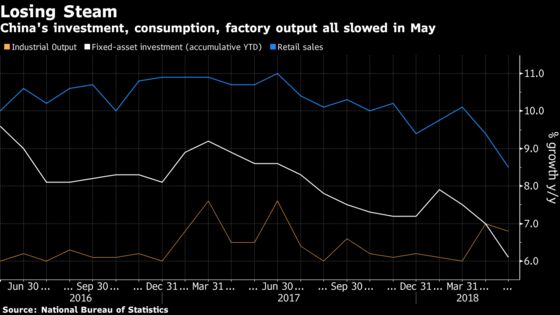 The U.S. president last week threatened 25 percent tariffs on $50 billion in Chinese products and said at the time he would impose even more duties if China retaliated. A counter punch was swift in coming, with a statement from Beijing on Friday night that it would "strike back forcefully."
China's threat "clearly indicates its determination to keep the United States at a permanent and unfair disadvantage," Trump said Monday. "This is unacceptable. Further action must be taken to encourage China to change its unfair practices."
The latest salvo came as Trump seeks to convince U.S. lawmakers to let Chinese telecom company ZTE Corp. remain in business after it became a bargaining chip in the trade row. Earlier this month, the Trump administration gave ZTE a reprieve for breaking a sanctions settlement after the company agreed to pay fines, change management and agree to American oversight. ZTE's survival has been a key goal of Chinese President Xi Jinping.
Upcoming Dates in the Brewing Trade Conflict:
June 20: Trump meets with Republican lawmakers about ZTE
June 30: U.S. Treasury report on investment restrictions due for release
July 6: U.S. and China to start collecting duties on $68 billion in goods
Shares in ZTE declined after the Senate passed legislation on Monday evening that would restore penalties.
The U.S. imported $505 billion of goods from China last year and exported about $130 billion, leaving a 2017 trade deficit of $376 billion, according to U.S. government figures. The fact that America imports more from China will make it harder for Beijing to match Trump's attacks, according to Derek Scissors, a resident scholar at the conservative American Enterprise Institute in Washington who focuses on China.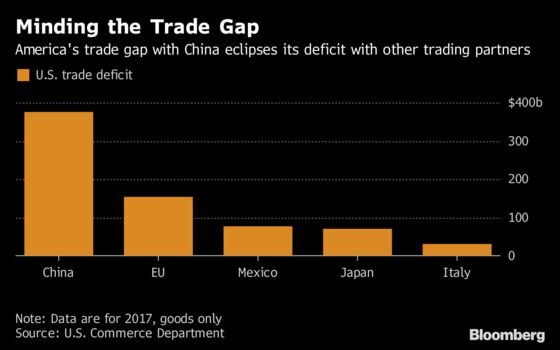 "All they can do is impose higher tariffs on a smaller subset of products," he said. That being said, "China is going to retaliate."