Trump Aide Says U.S. Economy Can Absorb Hit From China Tensions
(Bloomberg) -- Now is the right time to pressure China on its trade policies because the U.S. economy is strong enough to absorb uncertainty arising from bilateral tensions, White House Council of Economic Advisers Chairman Kevin Hassett said Monday.
Hassett spoke three days after President Donald Trump vowed to impose tariffs on at least $50 billion in Chinese goods amid failed trade negotiations with Beijing. The Chinese government immediately threatened to retaliate, and global stocks retreated as concerns mounted that the world's two biggest economies are headed toward a trade war.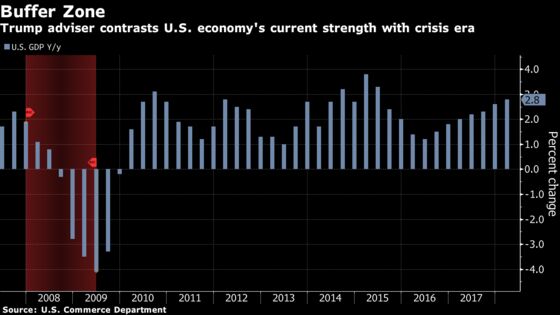 "When uncertainty is high, that's difficult for Americans, and it does depress activity a little bit," Hassett said in an interview on CNBC. "If right in the middle of a financial crisis we added some uncertainty over exactly how are these negotiations going to work out, then it would be pretty harmful then. But right now the economy has got a lot of forward momentum."
Citing the Federal Reserve Bank of Atlanta's GDPNow tracking estimate for the current quarter, Hassett said the economy is growing faster than 4 percent thanks to this year's tax cuts and a "boom" in business investment. He was optimistic the White House would succeed in its China policy, which is designed to shrink America's trade deficit and prevent Beijing from engaging in alleged theft of intellectual property.
"We're going from an old world to a new world. We're going to get to that new world -- that's a big, positive change in trade policy," he said. "But the uncertainty over it now is definitely palpable."