Pompeo Calls China's Appeals for More Trade Openness a `Joke'
(Bloomberg) -- Secretary of State Mike Pompeo amplified President Donald Trump's tough line in a brewing trade war with China in a speech on Monday, saying U.S. action was long overdue and calling Chinese appeals for greater economic openness "a joke."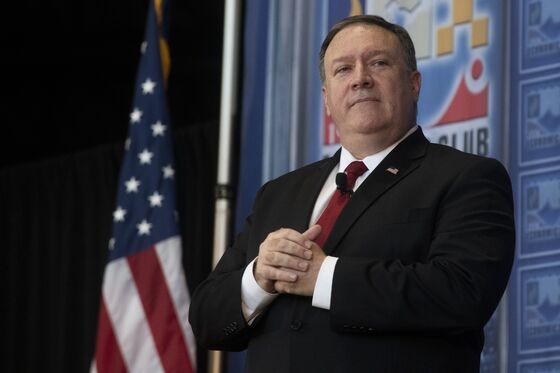 "Chinese leaders over these past few weeks have been claiming openness and globalization, but it's a joke," Pompeo told the Detroit Economic Club. "Let's be clear. It's the most predatory economic government that operates against the rest of the world today. This is a problem that's long overdue in being tackled."
With the speech, Pompeo dispensed with the conciliatory language that would normally imbue comments from the top U.S. diplomat. His remarks were especially jarring given that Pompeo delivered them in Michigan, a state that would likely be hard hit by a trade war with China and where businesses are deeply concerned about possible aftershocks.
Pompeo committed to the speech when he was director of the Central Intelligence Agency, and had planned to discuss the intersection of economics and espionage. But Trump named him secretary of state in March, and he instead used the opportunity to defend the president's tough stance to an audience anxious about Chinese retaliation, particularly tariffs on U.S. automakers.
On Friday, Trump said the U.S. will impose duties on $50 billion in Chinese imports. China pledged retaliation and put forward a list of goods that could be affected, including cars and farm products. The U.S. duties are aimed at punishing China for abusing American intellectual-property rights and reducing the $376 billion trade deficit in goods with China.
Pompeo called China's theft of U.S. intellectual property "an unprecedented level of larceny." He framed Trump's actions as a push to correct a trade framework distorted to the advantage of strategic adversaries of the U.S.
"If you look around, there have been those who have criticized some of the tariffs," Pompeo said. "But just ask yourself, would China have allowed America do to it what China has done to America?"
Pompeo was more conciliatory toward U.S. allies such as Canada and Mexico despite Trump's rift with the Group of Seven major industrialized democracies after a summit in Quebec this month. Trump backed out of a joint statement with the group upon hearing Canadian Prime Minister Justin Trudeau say Canada would be forced to respond to the U.S. decision setting tariffs on Canadian steel and aluminum.
"I'm convinced when the trade negotiations are complete that there will be more volume, more dollars, and greater freedom of trade between the United States and Canada," Pompeo said. "I'm completely convinced of it. I've seen the work that's going on, there were simply some things that were out of whack."