Fed's Bostic Says Business Optimism Fading Amid Trade Tensions
(Bloomberg) -- Federal Reserve Bank of Atlanta President Raphael Bostic said optimism among businesses has fallen on concerns that U.S. trade barriers will disrupt growth, increasing risks to the economic outlook.
"I began the year with a decided upside tilt to my risk profile for growth, reflecting business optimism following the passage of tax reform,'' Bostic said Monday in a speech in Savannah, Georgia. "That optimism has almost completely faded among my contacts, replaced by concerns about trade policy and tariffs. Perceived uncertainty has risen markedly.''
While projects under way continue, "the bar for new investment is currently quite high,'' he added.
Bostic supported the Federal Open Market Committee decision last week to raise rates for a second time this year. The committee upgraded its forecast to four total increases in 2018, as unemployment has fallen and inflation has risen faster than previously projected.
While the FOMC has characterized the risks to the outlook as roughly balanced this year, Bostic said his view has moderated.
"'Risk off' behavior appears to be the dominant sentiment among my contacts,'' he said. "In response, I've shifted the risks to my growth outlook to balanced.''
Bostic said he supported raising rates until monetary policy becomes neutral -- the level where it neither boosts nor stymies growth -- though he said the committee appears to be closing in on that goal.
"We are getting close to the lower part of most plausible estimates of the neutral rate,'' he said. "A key policy question going forward is how many more rate increases are required to complete the transition to a policy stance that is neither accommodative nor restrictive.''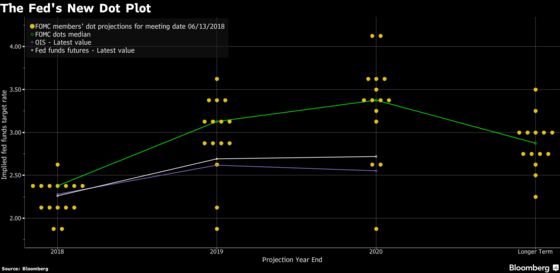 The so-called "dot plot" released June 13 showed eight Fed policy makers expected four or more quarter-point rate increases for the full year, compared with seven officials during the previous forecast round in March. Individuals weren't identified.
Bostic said the current economy reflects a labor market at around full employment with inflation near the Fed's 2 percent goal, so conditions are "reasonably close" to meeting the central bank's mandates.