Stocks Pare Their Losses as Trade Tensions Simmer: Market Wrap
(Bloomberg) -- U.S. stocks fell, though major indexes traded well off session lows as a flare up in trade tensions eased to a simmer. Treasuries rose with the dollar.
The Dow Jones Industrial Average notched a sixth straight loss in its longest slump in more than a year, and the S&P 500 equaled its biggest drop in three weeks. The declines came after steep losses in Asia and Europe sparked by renewed concern the U.S. and China are headed for a full-blown trade war. Neither side escalated attacks Tuesday after President Donald Trump threatened fresh tariffs and China promised to retaliate in kind.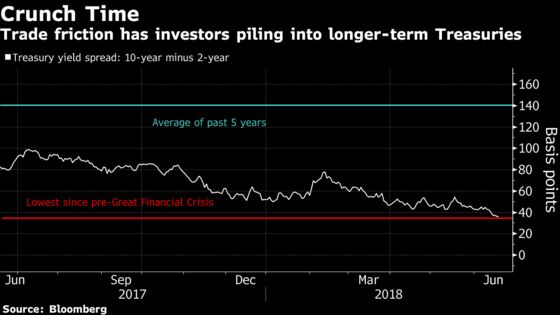 Tough trade talk is nothing new for investors in 2018, but the perception that stress is ratcheting up between the U.S. and China hit markets hard on Tuesday morning before U.S. shares saw some relief in afternoon trading. The protectionist moves come at a time when many are already voicing concern that global growth could lose momentum as the U.S. tightens monetary policy and Europe pulls back on stimulus.
"The degree of both rhetoric and substance behind the proposals that have gone back and forth recently is worrisome," Mark Howard, a senior multi-asset specialist at BNP Paribas, said in an interview on Bloomberg TV. "This has caused a bit of a risk-off trade today, and it's a cause of caution by major investors."
The lurch toward protectionism rattled commodities and commodity-linked currencies, which retreated across the board. Oil fell as traders weighed OPEC's discussions on a compromise over increasing output ahead of a meeting in Vienna this week.
The Cboe Volatility Index rose to the highest since May, while government bonds in Europe rallied alongside U.S. notes. Developing-nation stocks dropped the most since March.
Terminal users can read more in Bloomberg's Markets Live blog.
Here are some key events to watch for this week:
Draghi, Reserve Bank of Australia Governor Philip Lowe, Bank of Japan Governor Haruhiko Kuroda, and Fed Chairman Jerome Powell join a panel on central bank policy in Sintra, Portugal, on Wednesday.
Thailand, Philippines and Brazil central bank decisions due Wednesday.
Bank of England rate decision on Thursday.
Also on Thursday: U.S. jobless claims, New Zealand GDP, South Korea export data.
The Organization of Petroleum Exporting Countries meets in Vienna on Friday.
And here are the main market moves:
The S&P 500 fell 0.4 percent as of the close of trading in New York.
The Dow Jones Industrial Average finished 1.1 percent lower
The Stoxx Europe 600 Index declined 0.7 percent to the lowest level this month.
Germany's DAX Index dropped 1.2 percent to the lowest in almost three weeks.
Hong Kong's Hang Seng Index slipped 2.8 percent to the lowest since February.
The MSCI Emerging Market Index sank 1.9 percent to the lowest since October.
The Bloomberg Dollar Spot Index rose 0.2 percent to the highest in 11 months.
The euro decreased 0.3 percent to $1.1583, the weakest in three weeks.
The British pound declined 0.5 percent to $1.3177, the weakest since November.
The Japanese yen jumped 0.5 percent to 110.55 per dollar.
The yield on 10-year Treasuries fell three basis points to 2.89 percent, the lowest in almost three weeks.
Germany's 10-year yield declined two basis points to 0.37 percent, its sixth straight decline.
Britain's 10-year yield decreased four basis points to 1.28 percent.
Gold dipped 0.3 percent to $1,275.18 an ounce, the weakest in six months.
WTI oil dropped 1.2 percent to $65.07 a barrel.