Pound Political Trauma May Continue Even With BOE Back in Focus
(Bloomberg) -- The pound began the week on the back foot as it faces political turmoil amid the Conservative Party's ongoing internal battle over Brexit.
With a decision still awaited on whether the U.K. Parliament gets a say on the final deal to leave the European Union, sterling will likely be sensitive to the outcomes of a vote in the House of Lords Monday and another in the Commons Wednesday. Focus will return to monetary policy Thursday, when the Bank of England announces its latest decision, which may offer clues on the likelihood of an August interest-rate increase.
"For the BOE, the message is unlikely to change and if anything, could firm up August pricing, supporting the pound," said Jordan Rochester, an analyst at Nomura International Plc. "However, the politics is on the edge of turning and it would take just one headline suggesting a leadership contest to wipe out any BOE-related gains."
Strategists and investors will be scanning media reports for any hint that Prime Minister Theresa May is facing a leadership challenge as her party remains split over the so-called 'meaningful vote,' which would let Parliament vote on the final Brexit deal. After a weekend dominated by political headlines, some hard-line pro-Brexit Conservative lawmakers have privately warned they could move to oust May if the parliamentary votes this week go against them.
The pound fell 0.3 percent to $1.3243 on Monday, staying close to a 2018 low touched on May 29. Implied volatility on one-week sterling-dollar options has climbed ahead of the parliamentary votes.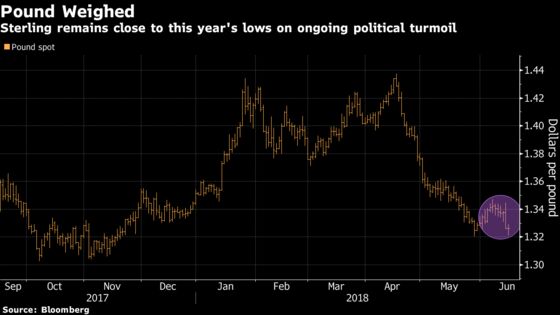 With monetary policy back on the agenda, U.K. government bonds could also be vulnerable after rallying last week amid broader haven demand. Investors are divided over the probability of an August rate increase, currently priced by money markets at just over 50 percent. After last week's mixed economic data brought little clarity, the central bank's comments on the economy will be keenly read by market participants.
"The most the market can expect is an acknowledgment that things have not picked up as the BOE had been forecasting -- which would be bullish" for gilts, Societe Generale SA strategist Jason Simpson said. "But the Monetary Policy Committee is likely to reiterate the view that rates still need to rise, in line with previous statements."