Powell Styles Himself Fed Chairman for the People as Rates Bite
(Bloomberg) -- Alan Greenspan famously said he'd mastered the art of mumbling "with great incoherence" as Federal Reserve chairman. Jerome Powell is attempting the opposite approach.
"Because monetary policy affects everyone, I want to start with a plain English summary of how the economy is doing, what my colleagues and I at the Federal Reserve are trying to do and why," Powell, who took the helm at the U.S. central bank in February, said at the outset of his June post-meeting press conference on Wednesday.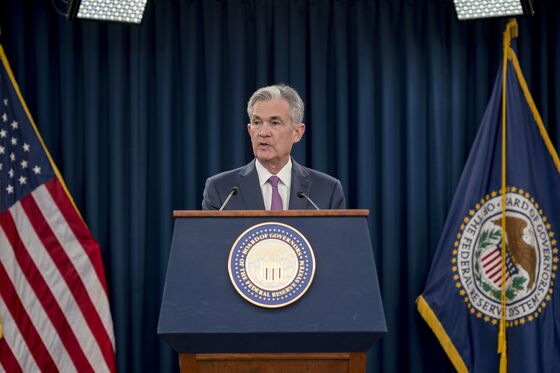 That bid for a broader audience is the latest step in an evolution: Fed leaders have been striving toward greater transparency for years, and now Powell is pushing democratization a step further.
He's a non-economist who uses concise, simple terms -- growth is "great" and "there's a lot to like" about low unemployment. He downplays the importance of modeled relationships and emphasizes the data in hand. He's adding more press conferences, and the Federal Open Market Committee has already shortened its post-meeting statement under his watch.
The shift toward plain-spokenness comes as the Fed approaches a treacherous policy juncture.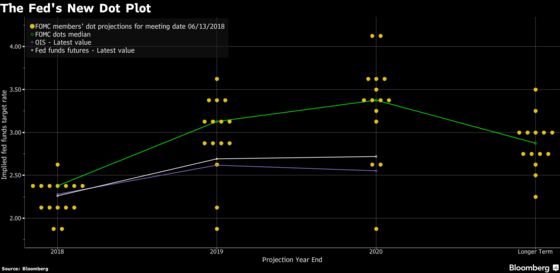 Starting next year, policy makers expect to lift rates past their neutral level, so that monetary policy will stop boosting the economy and start holding it back. Running tight policy has been a public relations headache for the Fed throughout its history, and communicating a rationale early, optimistically, and in a way the public can understand could help to contain any backlash.
"The Federal Reserve has the incredible challenge that they have to communicate that wage growth can actually be too high, and that the unemployment rate can be too low," said Torsten Slok, chief international economist at Deutsche Bank in New York.
In some ways, Powell's increased transparency fits his time. He was appointed by President Donald Trump, who is in constant, direct communication with the public that elected him after warming to his blunt style. Like Trump, Powell accentuates the positive while also acknowledging Americans' economic pain.
"Most people who want a job can find one," he said Wednesday. "We're well aware that there are pockets out there of people who have not felt" the recovery, "but broadly speaking, it's a good economy."
Powell's simple speech is enabled by the economic backdrop. With unemployment low, inflation contained near the Fed's 2 percent goal, and growth pumped up on fiscal stimulus, it's safe to give the economy an A grade.
"It's easy to have a pretty confident view, so I think the plain-spokenness probably works right now," said Michael Gapen, chief U.S. economist at Barclays Capital Inc. in New York. He noted that Powell is less clear about the longer-term outlook. "Is that because it's the long run, or because making policy restrictive is uncomfortable territory for them? We'll see."
As rates move gradually toward a restrictive setting, Powell's Fed is staring down an epic communication challenge: They'll need to convince Americans and a president prone to public outbursts against enemies that hikes are intended to help the economy, possibly by restraining it.
The Fed now expects to lift the fed funds rate above its long-run level in 2019, which means that they could begin actively curbing growth next year. That's a tough policy to carry out: Officials expect to push the unemployment rate up by a full percentage point in the longer run, from 3.5 percent in 2019 to 4.5 percent.
To put that in perspective, 1.2 million people who have a job at today's 3.8 percent unemployment rate would lack them if joblessness were at 4.5 percent, all other things being equal.
Painful rate hikes have historically spurred backlash, both from lawmakers and from the public. Chair William McChesney Martin was pressured by the White House over his monetary policy. When Paul Volcker lifted rates to tackle America's high inflation in the 1980's, carpenters mailed wood to the Fed chief -- saying it was no longer needed for building because no one was buying houses.
While the modern Fed is projecting a far milder overshoot on rates compared with the Volcker years, it could still draw unwanted attention. Dan DiMiccio, a Trump ally and former adviser, tweeted on Wednesday that the Fed's rate hike and quicker projected hiking path was a "big mistake."
Political threats to the U.S. central bank aren't to be taken lightly. While the Fed is independent of the executive branch and lawmakers can't intervene in monetary policy, they can legislate to change the Fed -- and there's some appetite to do so, as regularly introduced "audit the Fed" bills attest.
Plain, optimistic communication could help the public to understand the Fed's rationale, but it can only go so far.
"Plain-spoken or not, there's going to be some flak when the Fed starts pressing on the brake pedal," said Carl Riccadonna, chief U.S. economist at Bloomberg. "You start dumping cold water on the economic gains of tax reform? President Trump is not going to be a happy camper."