Nomura Says Intervention Can Snap India Bonds' Vicious Cycle
(Bloomberg) -- Indian bonds are caught in a vicious cycle and policy makers need to intervene to break that to prevent more losses, according to Nomura Holdings Inc.
State-run banks -- the biggest holders of local sovereign debt -- are largely staying away, owing to losses worth billions of rupees suffered during a rout that has seen the 10-year yield rise in nine of the last 10 months. That's at a time when supply of government bonds is rising and foreign funds are dumping rupee notes at a record pace.
"It's in a way a self-sustaining sort of a vicious cycle that as banks refrain from this market, bond yields go higher and as yields go higher, portfolio valuations gets significantly impacted, which further reduces their appetite," Neeraj Gambhir, Mumbai-based managing director and head of fixed income at Nomura's Indian unit, said in a phone interview. "This cycle needs to be broken through some policy intervention."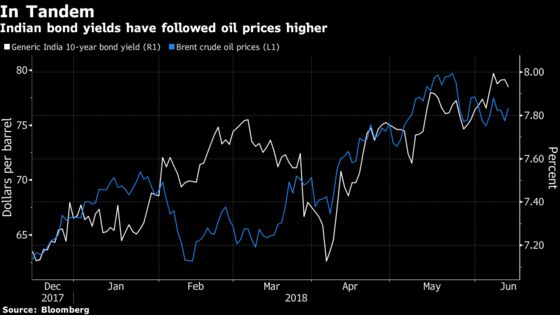 Gambhir's call comes after a slew of measures failed to halt the rout. The central bank and the government have already eased some investment rules for foreigners, pared debt sales and allowed banks to spread out trading losses. Yet, the yield on India's benchmark 10-year bonds has climbed 58 basis points since the first such policy change was announced in late March.
The 10-year yield rose above 8 percent last week as the Reserve Bank of India raised benchmark interest rates for the first time since 2014 and set the stage for a gradual tightening cycle. It fell two basis points to 7.91 percent on Thursday. A combination of rising oil prices, tighter domestic liquidity and worsening public finances has cast a pall over bonds in the past year.
"Whether that policy intervention is by way of the RBI buying bonds through open-market operations or it's the government taking some steps to encourage demand from outside or from the domestic market, that needs to be seen," said Gambhir. "But unless and until we find some other source of demand for government bonds, the stress in the government bond market will probably continue for the foreseeable future."
Investor confidence has also been dented by weakness in the rupee, which is among Asia's worst-performing currencies in 2018.
Whether the 10-year yield "settles at 8 percent or 8.25 percent is just a matter of detail, but I don't see any respite at this point in time," said Gambhir.
Here are some other comments he made during the interview:
"At this yield level, buying government bonds is more attractive than lending money to even retail portfolios. So, there is clearly a lot of value in the government bond curve. But the problem is that it's not about the value. It's about the buyer base, it's about demand"
"I don't think the state-run banks will start coming in and buying bonds at 8%, thinking, now there's a lot of value. I don't think it's the value that's driving their decision behavior"
There are many variables at play at this point in time. The market will react to global factors, energy prices, crude oil prices, inflation outcome and the monsoon rains
"Short-end bonds offer a lot of value. And also given that we are in a rising yield environment globally, duration is not something investors are likely to like too much at this point in time. But if you look at it from a pure risk-return basis, two-to-three year bonds are today offering a decent value"

READ: India may cut down on issuance of shorter-maturity bonds, a senior government official said, as a drop in prices on the securities in the secondary market prompts investors to demand higher yields at auctions