U.K. Inflation Stays Put as Fuel Prices Rise Most Since 2011
(Bloomberg) -- The biggest increase in auto-fuel prices in more than seven years helped keep U.K. inflation from continuing its downward path last month.
Annual consumer-price growth stayed at 2.4 percent in May, as forecast by both the Bank of England and economists surveyed by Bloomberg.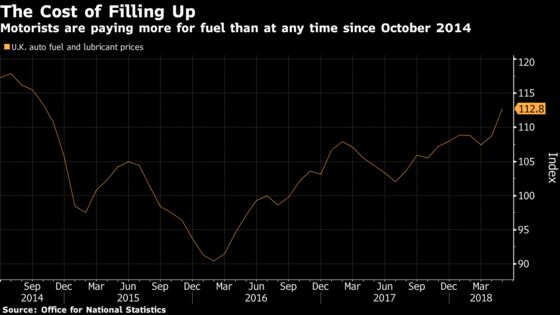 Upward pressure was led by the price of fuel, which leaped by 3.8 percent, the sharpest monthly rise since January 2011, the Office for National Statistics said on Wednesday.
There was also pressure from air fares and ferry prices. These effects were partly offset by computer games and energy prices, which failed to match the large gains seen a year earlier.
The figures come in the middle of a week of mixed economic readings that have left opinion divided over when the Bank of England will increase interest rates.
Price growth has slowed from 3.1 percent at the end of last year as the effect of the pound's post-Brexit vote collapse fades. The BOE expects inflation to average 2.4 percent this quarter, with further interest-rate increases needed to bring it back to the 2 percent target over the next three years. However, money markets put the chance of a hike in August at little more than 50 percent.
The pound was little changed after the inflation data at $1.3325, down 0.4 percent on the day.
The surge in fuel prices came in a month that saw crude oil twice break through the $80-a-barrel mark. Hopes that motorists might get some relief this month were called into question Wednesday by the RAC motoring organization, which said prices have continued to rise since the end of May despite a fall in wholesale costs.
The cost of filling up a vehicle is now higher than at any time in the last 3 1/2 years.
Core inflation, which excludes food, energy, tobacco and alcoholic drinks, stayed at 2.1 percent last month.
Rising oil and commodity costs and a fall in the trade-weighted value of sterling last month saw producer input prices rise 2.8 percent, the most since late 2016. It took the annual growth rate to 9.2 percent.
However, input-price inflation remains below year-earlier levels and factories have chosen to absorb much of the pressure rather than pass it on to consumers. Output prices rose an annual 2.9 percent last month.
House prices rose 3.9 percent in April from a year earlier, the weakest pace in more than a year. The worst-performing region was London, where prices rose just 1 percent as Brexit fears and stretched affordability sapped demand.