Euro Zone's Nordic Member Is Fighting to Save the Welfare State
(Bloomberg) -- The only Nordic member of the euro zone is trying to figure out how its social welfare model can survive the future.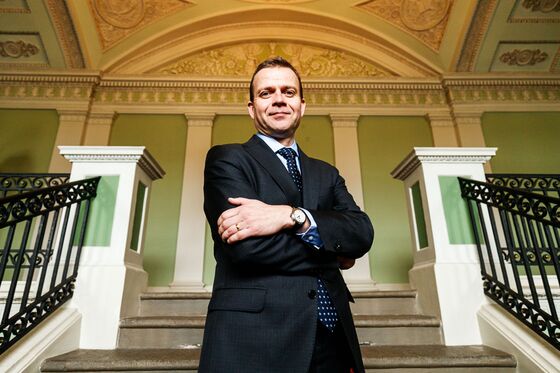 Finnish Finance Minister Petteri Orpo says the support system that his countrymen have relied on for more than half a century needs some profound adjustments as the population ages and debt repayment grows more challenging.
"It is clear that the social security that was created in the past is not working properly anymore," Orpo said in an interview. "It does not fulfill its basic mission. We have to update the system to meet today's needs, otherwise it will turn against itself."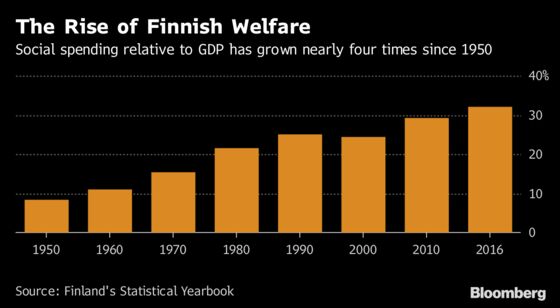 Finland is now plowing through a string of economic experiments that includes road-testing a universal basic income. Final results are due next year, but the political establishment and unions have already voiced doubts about its feasibility in practice. Another option under consideration is a version of Britain's universal credit system, which tries to consolidate social benefits under one umbrella.
| Universal Basic Income | Universal Credit |
| --- | --- |
| In its most extreme form, UBI involves a monthly stipend to all citizens, no strings attached, replacing the benefits traditionally paid out by the state. Finland is trialling the idea with a random sample of 2,000 people on unemployment benefit, with recipients paid 560 euros ($660) per month for two years. Similar experiments are taking place in Switzerland, Canada and the Netherlands. | Britain's Conservative-led Coalition government introduced Universal Credit in 2013, replacing six means-tested benefits and tax credits with a single monthly payment. Its roll-out has suffered from technical delays and spiraling costs, with many recipients complaining about late payments that have forced them to fall behind with their rent. |
With a general election 10 months away Orpo, who is currently part of the ruling center-right coalition, is keen to persuade voters he's got a plan to pay for their prized welfare model. For now, there are signs the ruling parties may struggle to be re-elected. A poll in the Helsingin Sanomat newspaper published on Thursday shows support for the opposition Social Democrats rising in June as Orpo's National Coalition party loses backing.
Orpo doesn't like the idea of giving money away for nothing, and the basic income currently being tested is unlikely to make it into Finnish law. Instead, he wants a simplified model that provides "strong basic social security" and "encourages people to take up work."
To achieve that, Finland should "adapt" elements of the U.K.'s universal credit system "to the Finnish context," Orpo said. To be sure, the model has so far met plenty of criticism in Britain, in large part due to significant administrative hiccups. Proponents say it's simpler than offering multiple benefits and that it helps avoid the kinds of traps that make work less attractive.
Finland is enjoying an economic rebound that Orpo says needs to be utilized to bring about the welfare changes that will ultimately protect social security. The country has a lot of things going for it, including an education system that remains second to none. Finland was recently ranked the world's "least fragile" nation state by Fund for Peace, a U.S. non-governmental organization.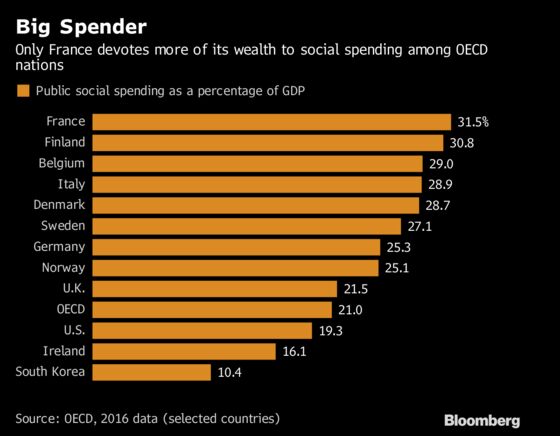 A keen supporter of Germany's austerity drive during Europe's debt crisis, Orpo's National Coalition has played a key role in helping Prime Minister Juha Sipila, Finland's first businessman-turned-prime minister, shift the national discourse away from the canons of left-of-center politics.
Sipila and Orpo have already angered trade unions by introducing rules that pressure the unemployed into taking up temporary work and the employed to work more for less pay. Their latest efforts to open up the public health care market to private providers are threatening to bring down the coalition.
"While living standards and the quality of life have improved for most Finns, there is a growing chunk of the population that's been left behind," said Juho Saari, a public policy professor at the University of Tampere. In addition, more and more people are staying on benefits for longer, he said.
For Orpo, the choice is clear.
"We want a model that encourages people to take up work," he said. It's a view backed by the OECD, which recommended a system of universal credit rather than universal income in a recent report.
Finland followed neighboring Sweden and Norway in developing a welfare system steeped in the social-democratic belief that the state should act as a guardian. It may now become the first Nordic welfare bastion to spearhead some of the most radical changes.