Euro Area Dealt Spate of Weak Economic Cards as ECB Eyes Exit
(Bloomberg) -- A slump in euro-area industrial production joined a series of underwhelming economic data on the eve of a European Central Bank meeting that may set the course for future monetary stimulus.
Output dropped 0.9 percent in April, pulled down by a plunge in energy, Eurostat said on Wednesday. Production fell in the region's four biggest economies and the overall decline exceeded the 0.7 percent forecast in a Bloomberg survey.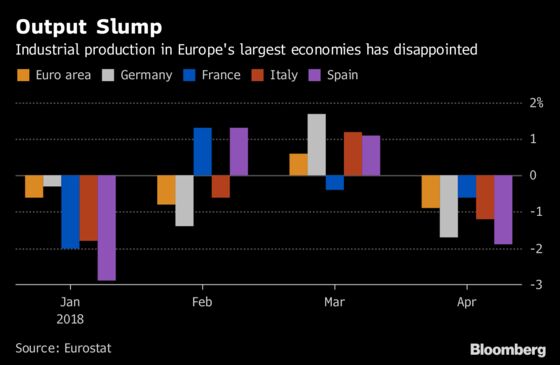 Disappointing news have been plentiful in recent weeks.
A spate of numbers have defied expectations, suggesting the 19-nation economy isn't likely to match last year's rapid pace of expansion and might even slow down considerably. On top of that, there are uncertainties ranging from Italian politics to trade tensions that intensified during a meeting of Group of Seven leaders at the weekend.
| | Actual | Survey | Prior | Size and Scope |
| --- | --- | --- | --- | --- |
| German investor confidence | -16.1 | -14.0 | -8.2 | Fourth decline this year to lowest since Sept. 2012  |
| German factory orders | -2.5% | 0.8% | -1.1% | Fourth consecutive decline, steepest since Jan. |
| French industry sentiment | 100 | 102 | 102 | Third consecutive decline to lowest since Oct. 2016 |
| Euro-area economic confidence | 112.5 | 112.0 | 112.7 | Fifth consecutive decline to 9-month low |
| Euro-area investor confidence | 9.3 | 18.5 | 19.2 | Fifth consecutive decline to lowest since Oct. 2016 |
| Euro-area manufacturing PMI | 55.5 | 56.1 | 56.2 | Fifth consecutive decline to lowest since Feb. 2017 |
More prominent global risks already caught the Governing Council's attention at its last policy meeting in April and updated forecasts due on Thursday will show how they affect growth and inflation in the months and years ahead. In March, the ECB predicted a 2.4 percent expansion for 2018, matching last year's rate, with inflation averaging 1.4 percent.
So far, officials have underlined the robust and broad-based economic upswing and reiterated their commitment to start a discussion this week on how to scale back monetary support, though there's no guarantee a decision will be made. In spite of the latest slowdown, economists predict asset purchases will end this year.
One reason for their relative optimism has been highlighted by ECB chief economist Peter Praet, who suggested late last month that the soft patch probably had "a lot to do with supply constraints."
Not only Germany -- with record-low unemployment -- is running at full tilt. Other countries are also testing their limits. The European Commission concluded in its most recent forecast that momentum would take a hit in some places "as capacity constraints make themselves felt and labor market slack is absorbed."
In a sign that companies are stepping up investment to meet increased demand, output of capital goods surged 1.9 percent in April, the most in five months. A separate report showed employment jumped 0.4 percent in the first quarter.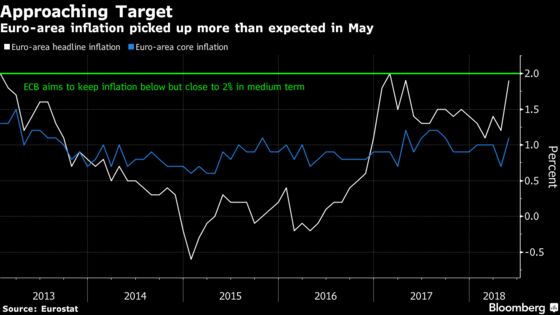 Euro-area inflation accelerated more than expected last month to a level effectively in line with the ECB's goal of below but close to 2 percent. While energy was the main reason for the pickup, economists see underlying cost pressures firming as well.
IHS Markit, which compiles gauges for manufacturing activity, also noted increases in the backlog of work and higher input costs.
The fast rate of growth experienced late last year "couldn't continue," Sharon Bell, senior European equity strategist at Goldman Sachs said in a television interview with Bloomberg's Francine Lacqua on June 5. "A little bit of a slowdown from that level is what we'd want to see, and that is exactly what we've had in the first quarter. You've still got pretty good growth."