U.S. Small-Business Optimism Hits Second-Highest on Record
(Bloomberg) -- A gauge of optimism among U.S. small-business owners rose to a 34-year high amid increasingly sunny expectations for sales and profits, a National Federation of Independent Business survey showed Tuesday.
Highlights of Small-Business Optimism (May)
Sentiment index rose 3 points to 107.8 (est. 105), second-highest in gauge's history behind reading of 108 in 1983
Net 31% expect sales to increase, up 10 points from prior month and highest since Nov.
Record 34% of respondents said it's a good time to expand; net 3%, also a record high, reported higher quarterly profits
Small-business sentiment has remained elevated since Donald Trump was elected president in late 2016, with tax cuts, reduced regulations and solid economic growth supporting the optimistic outlook. At the same time, owners continued to cite difficulty finding workers with the necessary skills and qualifications and have raised compensation accordingly amid the lowest unemployment rate in 18 years. The report suggests that Trump administration tariffs, along with freight bottlenecks that have pushed up costs for some businesses, have had little effect so far on small-company sentiment.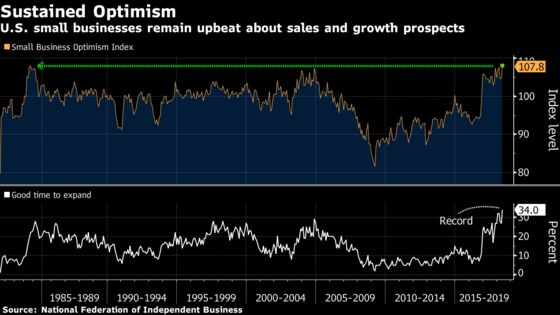 Shares of respondents raising prices and planning price increases were highest since 2008
Businesses reporting higher sales over last three months rose to a net 15 percent, highest since 2005