U.S. Inflation Accelerates to Six-Year High, Eroding Wages
(Bloomberg) -- U.S. inflation accelerated in May to the fastest pace in more than six years, reinforcing the Federal Reserve's outlook for gradual interest-rate hikes while eroding wage gains that remain relatively tepid despite an 18-year low in unemployment.
The consumer price index rose 0.2 percent from the previous month and 2.8 percent from a year earlier, matching estimates, a Labor Department report showed Tuesday. The annual gain was the biggest since February 2012 and follows a 2.5 percent increase in April. Excluding food and energy, the core gauge was up 0.2 percent from the prior month and 2.2 percent from May 2017, also matching the median estimates of economists.
The pickup in headline inflation partly reflects gains in fuel prices, though the annual gain in the core measure -- seen by officials as a better gauge of underlying inflation trends -- was the most since February 2017. While the Fed is widely projected to raise borrowing costs this week for the sixth time in 18 months, the path of inflation will figure into policy makers' thinking on the pace of increases for the second half and in 2019.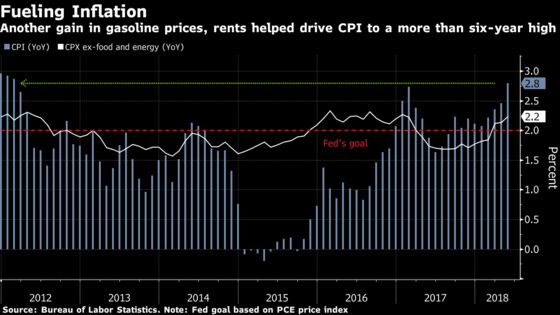 The data "provide further evidence that inflation is moving towards the Fed's objective," and the central bank will continue on its gradual rate-hike path, said Kevin Cummins, an economist at NatWest Markets. The pay figures are "a reminder that you don't need to necessarily get more aggressive in your approach because wages haven't accelerated as much as they have in the past," he said.
The Fed's preferred gauge of inflation -- a separate consumption-based figure from the Commerce Department -- came in at the central bank's 2 percent goal during March and April, and the figure tends to run slightly below the Labor Department's CPI. At the same time, several Fed officials have indicated that a modest overshoot of the inflation goal wouldn't necessarily warrant faster interest-rate hikes, after years of below-target price gains. Commerce Department figures released May 31 showed the Fed's preferred gauge of core prices was up 1.8 percent in April from a year earlier.
A separate Labor Department report on Tuesday illustrated how higher prices are pinching wallets: average hourly wages, adjusted for inflation, were unchanged in May from a year earlier, even as nominal pay accelerated to a 2.7 percent annual gain from 2.6 percent in April. For production and nonsupervisory workers, real average hourly earnings fell 0.1 percent from a year earlier.
Seasonally adjusted gasoline prices rose 1.7 percent in May from the previous month, after a 3 percent gain in April.
What Our Economists Say
The May CPI showed solid gains that could not be written off as the result of gasoline prices, cellphone-contract base effects or merely rent pressures -- although these factors did contribute. CPI service pressures exhibited a broad-based acceleration in most underlying categories, which is likely reflective of the ongoing pickup in labor costs. ... However, even though the core CPI is above 2 percent, it is not yet running at a pace consistent with 2 percent on the core PCE deflator.

-- Carl Riccadonna and Niraj Shah, Bloomberg Economics

Read more for the full reaction note on the CPI report.
The shelter category, which accounts for about one-third of the CPI, rose 0.3 percent from the previous month, continuing a trend of steady increases. Owners-equivalent rent, one of the categories designed to track rental prices, advanced 0.2 percent. Lodging away from home, which includes hotel and motel rates, rose 2.9 percent in May, the most since August.
Investors see the Fed as on track to raise interest rates at its two-day meeting that starts later on Tuesday in Washington, while policy makers will issue updated forecasts showing whether they expect one or two hikes in the second half. The unemployment rate fell to 3.8 percent in May, matching the lowest in 48 years and signaling the central bank is at or near its maximum-employment goal.
Energy prices rose 0.9 percent from previous month; food costs were unchanged
Costs for new vehicles rose 0.3 percent after a 0.5 percent decline in the prior month; used-vehicle prices fell 0.9 percent, the fourth straight drop
Air fares fell 1.9 percent after a 2.7 percent drop
Apparel prices unchanged after 0.3 percent gain
Expenses for medical care rose 0.2 percent; these readings often vary from results for this category within the Fed's preferred measure of inflation due to different methodologies
The CPI is the broadest of three price gauges from the Labor Department because it includes all goods and services. About 60 percent of the index covers the prices that consumers pay for services ranging from medical visits to airline fares, movie tickets and rents