Italy's Yield Curve Is Bearing the Brunt of Fickle Politics
(Bloomberg) -- The specter of the euro-area debt crisis still hangs over Italian bonds.
It's best highlighted by the country's yield curve, which has swung about violently in recent weeks as the new government's views on the euro and spending have dominated investor concerns. The difference in yields between the nation's 30- and five-year bonds will shrink to levels last seen in 2011 as political risks may re-emerge, according to Mizuho International.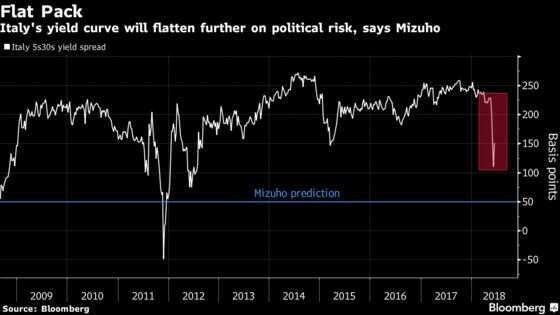 "In this game of chicken, the Italian government is trying to implement enormous change and establish leverage to increase the deficit, and Europe is going to be pushing back," said Peter Chatwell, head of rates strategy at Mizuho.
The yield difference between 30- and five-year bonds could narrow to 50 basis points or below, from around 200 basis points currently, should the new government's spending plans strain its finances, Chatwell said.
The yield curve has flattened in the past month as investors demand a higher premium to hold shorter-dated debt on the risk of Italy leaving the common currency. However, Italy's new Finance Minister Giovanni Tria has made assurances that the country would stay committed to the euro.
Decent demand at a bill sale helped steepen the curve Tuesday. The bid-to-cover ratio for the 12-month bills was 1.95, the highest since December, and comes one day before the nation sells three-, seven- and 30-year notes for a combined amount of up to 5.75 billion euros.
NatWest Markets believes investors have priced in a too-high chance of Italy leaving the monetary union, with the two-year yield equivalent to that on a 30-year French bond last week. Any exit would likely require an "exogenous shock," and would not take place in the next one or two years, strategist Marco Brancolini wrote in a note to clients.
"As such a shock does not appear to be looming, we believe that short-dated Italian bonds are cheap," he said. "A few weeks from now we expect front-end BTPs to offer much lower yields."