Glass Ceilings Are Holding Gay Men Back: Eco Research Roundup
(Bloomberg) -- Glass ceilings are a frequent topic these days as the Me Too movement spurs a broader conversation about sexism at work. It bears noting that women aren't the only ones to contend with them.
The first study in this week's research roundup looks into the barrier standing between gay men and top corporate roles. We also summarize research looking at how the European Union surpassed the U.S. along several measures of business competition and dynamism, look at the mental-health costs of air pollution in China, and examine America's falling savings rate. Check this column each Tuesday morning for fresh economic research from around the world.
Gay Glass Ceilings: Sexual Orientation and Workplace Authority in the U.K.
Published May 2018
Available on the IZA website
Gay men face glass ceilings, researchers find. "Gay men are significantly less likely than comparable heterosexual men to be in the highest-level managerial positions that come with higher status and pay," according to a new paper by Cevat Giray Aksoy from the European Bank for Reconstruction and Development, Christopher Carpenter of Vanderbilt University, Jeff Frank from Royal Holloway, University of London, and Matt Huffman from the University of California at Irvine. Gay men are more likely than similar heterosexual men to report managerial or supervisory responsibility in the workplace, but they seem to get stuck at lower-level management jobs. The research uses confidential data from the 2009-2014 U.K. Integrated Household Surveys and was published as a working paper by the IZA Institute of Labor Economics in Germany.
The trend seems to be driven by discrimination, not different skills and characteristics, the researchers find. What's more, the barrier is even stronger for racial minorities than for whites.
Up for Some Healthy Competition?
How EU Markets Became More Competitive Than U.S. Markets: A Study of Institutional Drift
Issued June 2018
Available on the NBER website
For all their love of Milton Friedman and Ayn Rand, America's capitalists aren't walking the talk. European markets have lower concentration, lower excess profits, and lower regulatory barriers to entry than those in the U.S. -- a huge reversal from the pre-1990s situation, researchers found.
The switch is a story of independence versus lobbying, according to an analysis by Germán Gutiérrez and Thomas Philippon at New York University's Stern School of Business. The European Central Bank is not subject to the same governmental oversight as the Federal Reserve and the Directorate-General for Competition is more free to maneuver than the U.S. Department of Justice, and that independence matters. Europe's supra-national institutions push pro-competition policies more strongly, and their competition-related enforcement has been stable-to-tighter over the past 15 years even as U.S. regulators have gotten more lax. Political and lobbying expenditures have also increased more in America as they've found greater success in influencing policy.
Air Pollution and Mental Health: Evidence from China
Published June 2018
Available on the NBER website
Bad air leads to bad outcomes, and it goes beyond physical pain. Pollution drives a serious increase in mental-health-related costs in China: a one-standard-deviation increase in fine particulate matter concentrations caused a cost of $22.9 billion in additional spending, these researchers estimate. That's a small share of overall output -- it's equivalent to about 0.22 percent of China's gross domestic product -- but it's similar in scale to the cost of lost labor productivity and the costs of mortality and dementia owing to pollution.
Weekly (Demo)graphic: Everything Changes, Nothing Changes


The U.S. Personal Saving Rate
Published June 5
Available on the IMF website
The U.S. personal saving rate rose significantly in the wake of the 2008 financial crisis, a trend that persisted to 2012. The change owed to sizable but temporary income and wealth shocks -- not to changes in underlying, structural shifts in behavior, based on this International Monetary Fund study.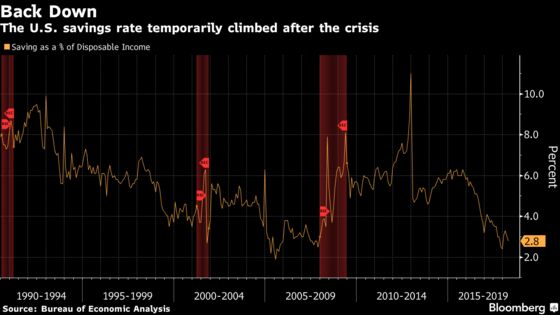 The paper indicates that the rate didn't slip from its trend if you take into account shocks to income, employment and wealth, which is why it's no surprise that the savings rate has been dropping back off.