U.S. Inflation Data to Show Warming Up Without Too Much Heat Yet
(Bloomberg) -- American consumer prices accelerated in May and costs paid to producers picked up, signs of a steady pickup of inflation that's consistent with the Federal Reserve's gradual approach to raising interest rates, government figures are projected to show this week.
While recent announcements of price increases at Starbucks Corp. and Jack in the Box Inc. have garnered some attention, inflation pressures have been concentrated in services rather than goods, including food from restaurants. The exception more recently is fuel costs, with prices at the gas pump reaching a more than three-year high in May. But prices of core goods, which exclude food and energy, have been restrained for years.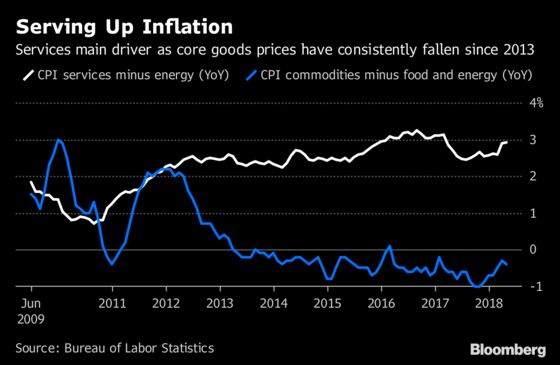 Rising gasoline prices probably helped propel the consumer-price index up 2.7 percent in May from a year ago, the biggest advance since February 2017, the Labor Department is forecast to report on Tuesday. The core CPI is projected to climb 2.2 percent, the most in more than a year. Data on Wednesday may show prices paid to producers increased 2.8 percent from a year ago.
"We expect to see a little bit of a bounce-back and overall it'll be a signal to the market that inflation's not going away," Sarah House, senior economist at Wells Fargo Securities LLC, said. "But it's not likely to be a game-changer" and "overall, the trend is moving up modestly" for prices, she said.
That jibes with the views of Fed officials who are widely expected to raise the overnight lending-rate target by 25 basis points to a range of 1.75 percent to 2 percent at the conclusion of their two-day meeting on Wednesday. This week's price reports probably indicate the Fed's preferred inflation metric, the personal consumption expenditures price index, will stay at or near the central bank's 2 percent goal.
The rise in petroleum prices, which has pushed up gasoline, also risks driving up the costs of services such as airfares. And while they don't always filter down to the consumer, prices charged by producers have also picked up as they contend with tariffs on aluminum and steel, the threat of additional charges on China that's swung commodity markets, labor shortages that are boosting wages, and logistics constraints.
Some consumer-facing companies have also started to raise prices as tight labor market conditions and government wage laws threaten to pressure margins. Jack in the Box raised prices on tacos in some California locations to make up for the 50-cent boost in that state's minimum wage for large employers. Starbucks raised prices for drip coffee by as much as 20 cents, despite the price of coffee beans actually falling.
Still, the effects on overall inflation are minimal as meal prices at limited-service restaurants account for 2.5 percent of the CPI. Those costs are also only running a bit higher than they have been during the entire expansion.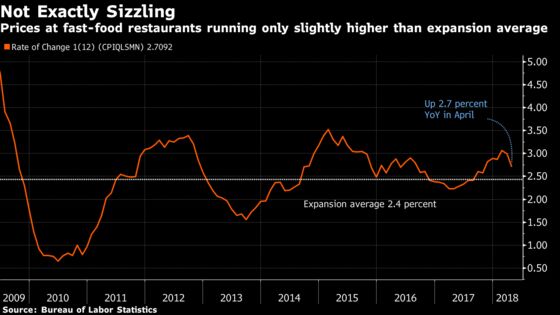 What Our Economists Say
The May CPI will show both headline and core inflation trending further above 2 percent in year-on-year terms. While the underlying details will be carefully scrutinized for clues indicating how the Fed's preferred metric -- the PCE deflator -- will perform in the near term, the results will not impact policy makers' actions at the conclusion of the June FOMC meeting the following day.

Producer prices -- both headline and core -- likely accelerated a touch in May. The figures will be scrutinized even more than usual for evidence of a pass-through from trade duties.

-- Carl Riccadonna and Niraj Shah, Bloomberg Economics

Read more for the full week-ahead U.S. preview from Bloomberg Economics.