Vietnam Says `Anti-State' Groups Incite Nationwide Protests
(Bloomberg) -- Vietnam said the groups behind Sunday's protests against proposed laws demonstrators view as curbing Internet freedom and favoring Chinese investors were trying to damage the country's image, after the rare display of public activism reportedly turned violent.
Thousands of demonstrators from Hanoi to Ho Chi Minh City rallied against draft cyber and economic-zone laws being considered by the National Assembly that some view as curbing Internet freedom and favoring Chinese investors. Protesters in the southeast coastal province of Binh Thuan attacked the local People's Committee with rocks and Molotov cocktails, setting ablaze motorbikes late in the evening, according to local media.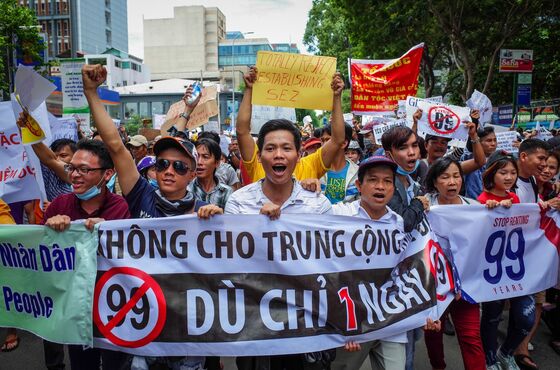 "Over the past few days, some anti-state organizations have taken advantage of people's sentiments for the nation, spreading calls on social networks, inciting people to protest and even attack authorized forces, causing public disorder and creating an image of an 'unstable' Vietnam," the government-owned Vietnam News reported Monday. "This is contrary to the state and people's efforts to build a peaceful, democratic and civilized country."
Protesters denounced a draft bill that would grant 99-year leases in economic zones to investors, sparking fears it would give those from China influence over the country. As a result, the National Assembly on Monday voted to delay consideration of the economic zone proposal until later in the year while the 99-year lease provision was removed, according to the legislature's website.
China, in a notice posted on its Hanoi embassy website, warned its citizens about travel in Vietnam after the demonstrations, which it called "illegal gatherings," included "anti-China content." It added, "The Chinese embassy in Vietnam is closely monitoring the trend."
In 2014, China's move to send an exploration oil rig into waters contested with Vietnam triggered deadly anti-China riots and clashes at sea between coast guard boats.
Demonstrators also opposed a draft law that would require foreign Internet companies, such as Facebook Inc. and Alphabet Inc.'s Google, to store data of local users in Vietnam and open offices in the country.
Police in Binh Thuan province detained 102 people after the demonstration, which caused injuries to dozens of police officers, VnExpress reported. The protest ended around midnight after members of the Ministry of Public Security assisted police, who were unable to disperse the crowd with smoke bombs and fire hoses.
"The National Assembly urges people to stay calm and trust decisions made by the Communist Party, state," said National Assembly Chairwoman Nguyen Thi Kim Ngan, according to the legislature's website. "Draft laws discussed by the National Assembly always receive public opinions."