Manufacturing Darkens Cloud Over U.K. Economy in Critical Week
(Bloomberg) -- The U.K. economy is looking weaker than expected, wrong-footing the Bank of England and weighing on the government as it tries to push through key Brexit legislation.
The pound fell on Monday after a report showing manufacturing output shrank the most in 5 1/2 years in April and a feeble gain in construction. The figures are a rough start to a packed week of data that will test the BOE's hypothesis that growth will rebound after a snow-blighted first quarter.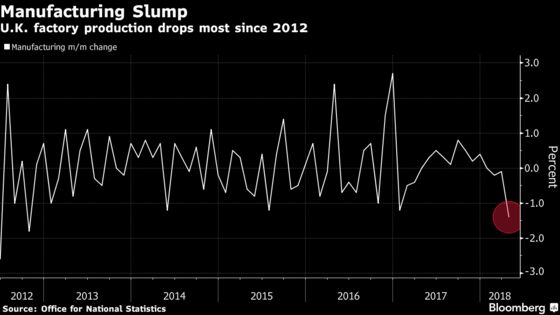 Economists expect the Monetary Policy Committee to follow up on last year's interest-rate increase with another hike as soon as August to keep inflation under control. That prediction now needs to be pushed back, according to Investec.
"It is difficult to explain the lack of regained economic momentum," said Investec's Philip Shaw. "The MPC is unlikely to have sufficient evidence to raise rates at its Aug. 2 meeting, as we previously believed. The current lack of clarity over Brexit arrangements, if not resolved, may also weigh on members' minds."
Prime Minister Theresa May is fighting to keep a rebellion at bay over plans to leave the European Union. On Tuesday, her flagship Brexit bill returns to Parliament for votes that have the potential to topple the government. Britain's future relationship with the EU is the key determinant for the outlook, according to BOE Governor Mark Carney.
Factory production contracted 1.4 percent, the most since 2012, the Office for National Statistics reported. Economists had forecast an increase. Building output rose 0.5 percent, well short of the strong rebound expected. Overall industrial production fell by 0.8 percent on the month, the most this year, while the construction industry's order book took a further hit in the first quarter.
The pound reversed gains after the report, trading 0.4 percent lower at $1.3359 as of 12:50 p.m. in London. The ONS publishes wage data for April on Tuesday, inflation on Wednesday and retail sales on Thursday, giving the BOE its first taste of hard data to test whether growth is bouncing back after nearly grinding to a halt in the first quarter.
In a speech last week, BOE policy maker Dave Ramsden pointed to a range of signs suggesting the economy gained momentum in the second quarter. They include a rebound in retail sales and consumer credit and stronger business surveys, including the latest reading of the dominant services sector.
But the latest figures leave a question mark over the BOE's prediction that growth will accelerate to 0.4 percent. The National Institute of Economic and Social Research on Monday estimated the economy grew just 0.2 percent in the three months through May, with recent purchasing-manager surveys showing Brexit fears weighed on new orders across the economy last month.
"A miserable and thoroughly worrying set of U.K. data," Howard Archer, an economist at EY Item Club, said after the manufacturing numbers were released. They will "fan concerns over the U.K. economy."