First Argentina, Then Turkey, Brazil. Now South Africa Reels
(Bloomberg) -- Investors rattled by everything from trade wars to the end of central-bank stimulus are picking off the most vulnerable emerging markets one by one.
The rand weakened more than 2 percent on Friday, almost twice as much as any other major peer. That came hot on the heels of a slide in Brazil's real that defied the best efforts of the central bank. Even the Turkish lira was buckling again, losing more than 1 percent, less than 24 hours after policy makers surprised investors with a greater-than-forecast interest-rate increase. Sovereign bonds retreated and the MSCI index of emerging-market stocks fell the most in more than three weeks.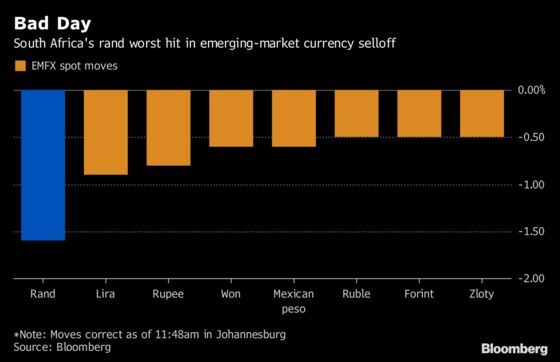 South Africa was thrust into the epicenter of a sell-off gripping emerging markets as policy makers in Europe and the U.S. plan to pare back more than a decade of stimulus measures. Trade tensions are deepening ahead of the G-7 conference in Quebec, while some investors are avoiding riskier assets before Tuesday's historic meeting between U.S. President Donald Trump and North Korean leader Kim Jong Un.
"Countries with large short-term external debt and current-account deficits are coming under bigger selling pressure," said Tsutomu Soma, the general manager for fixed-income trading at SBI Securities Co. in Tokyo. "Investors seem to be shifting their funds from weaker emerging markets to U.S. assets now."
The weeks ahead are filled with political events across developing countries.
Trade tensions are back in view as President Trump is set to find himself isolated at Quebec's G-7 confab, where he'll be challenged by other leaders on tariffs and the environment. The international conference will be followed by the summit between Trump and the North Korean leader scheduled on Tuesday in Singapore.
The world's three biggest central banks also meet next week, with the European Central Bank most closely watched. Peter Praet, the bank's chief economist, signaled the first round of talks on when to stop buying bonds is imminent.
"We're seeing a general emerging-market sell-off on the back of trade-war risks, less quantitative easing from the U.S. and European Union and upcoming elections in Turkey, Mexico and Brazil," said Hans Gustafson, an emerging markets FX strategist at Swedbank AB in Stockholm.
Emerging markets across the globe have suffered losses as higher Treasury yields and a stronger dollar fan concerns that economies relying on foreign funds will see capital outflows. Turkey joined Indonesia, India and Argentina in raising rates this week, while Brazil's central bank sold extra foreign-exchange swap contracts for the second time.
That contrasts with policy in South Africa, where the currency floats freely and the central bank didn't take action during bouts of currency weakness in the past two decades. The worst quarterly economic contraction in nine years suggests it won't tighten anytime soon, according to Brown Brothers Harriman & Co.
It would be hard for some countries such as South Africa and Brazil to raise rates like Indonesia and Turkey because of their economic conditions, SBI's Soma said. "If those countries do, it would put them in a vicious cycle," he said.