Argentina Peso Drops to Record After $50 Billion IMF Agreement
(Bloomberg) -- Argentina's central bank stepped back from defending the peso Friday following the country's record deal Thursday with the International Monetary Fund.
The peso dropped 1.3 percent to 25.31 per dollar Friday from 24.9850 per dollar Thursday. The currency paired earlier losses Friday, after being down as much as 2.2 percent.
Still, the decline marks the end of three weeks of central bank interventions in currency markets to stabilize the volatile peso. Since May 14, the bank had offered to sell $5 billion at 25 pesos per dollar. That offer, which was never executed, kept the peso steady amid IMF talks.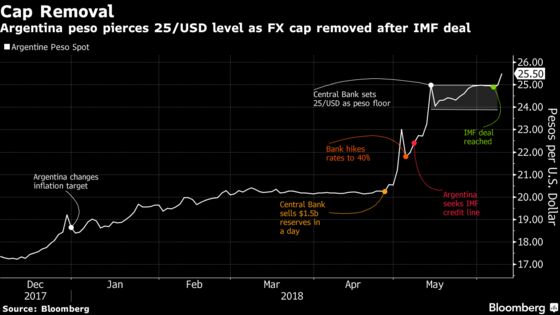 The IMF approved a $50 billion credit line to Argentina on Thursday, the largest lifeline in the Fund's history. In exchange, Argentina agreed to cut its fiscal spending faster, give the central bank more independence and change its inflation targets. Argentine leaders sought out the IMF following a sharp selloff in the peso in May as global volatility and concern about the central bank's credibility boiled over.
While the peso weakened Friday, Argentine bonds and the country's U.S.-traded stocks rose at the market open, led by bank Grupo Supervielle, which gained as much as 8.4 percent. In afternoon trading, debt yields had crept back up while share prices surrendered some gains.
By and large, analysts took a positive view of the agreement, noting that Argentina and IMF brokered the historic deal within a month.
"The deal was a success for several reasons: the government and the IMF moved fast, Argentina received a lot of money, and the adjustment is cautious even if less gradual than before," said Claudio Loser, director of consulting firm Centennial Group Latin America and former head of the IMF's Western Hemisphere department.
Still, others point out Argentina will be challenged next year to reach its fiscal spending target while President Mauricio Macri likely runs for re-election.
"The fiscal plan is ambitious and will be difficult to implement," Edward Glossop, an economist at research firm Capital Economics, said in a note Friday.