Putin Reassures Russians on Economy, Gas Prices in Call-in Show
(Bloomberg) -- Vladimir Putin tried to reassure Russians that "we're moving in the right direction" even as the economy struggles out of recession, using his annual call-in show with citizens to promise urgent steps on painful problems like rising gasoline prices.
As in past years, the event -- carried live on state television -- was marked by the contrast between the president's upbeat report on the economy and the sometimes desperate tone of the questioners about how to make ends meet on shrunken incomes. Putin seemed to acknowledge the disconnect, saying as he touted data on rising living standards that "of course not every person feels this but on the whole, these are absolutely objective statistics, it's the truth."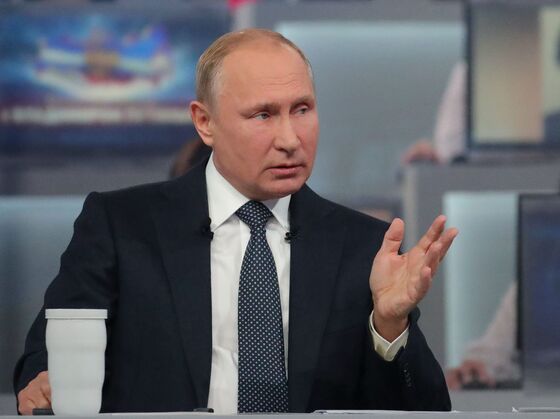 With opinion polls showing rising discontent with his government, Putin added a new twist to the show's format this year, summoning ministers and regional governors via video link to respond directly to viewers' concerns.
The first question came from a St. Petersburg truck driver, Alexei Karavaev, who asked when the government would stop the rise in fuel prices. "The whole country voted for you, and you can't stop gas prices," he said in a video, referring to Putin's election to a fourth term in March.
Putin turned to two of his ministers to lay out the measures they'd taken to stop the rise in prices and threatened to raise levies on oil companies if they didn't stick to a deal reached last week to freeze fuel costs.
The state television hosts of the show said they didn't want the event to turn into a "book of complaints," and one of the initial questioners went on so long with his praise of the president that they interrupted him.
Most of the questions were focused on domestic issues, but some international ones also appeared. In response to one, Putin reassured viewers that "World War III" isn't near.
"The understanding that a Third World War could bring the end of civilization should deter dangerous acts on the international arena," Putin said, criticizing the U.S. for its decision to pull out of the Cold War-era treaty limiting missile defenses in 2001.
He also blasted U.S. sanctions on Russia, saying the widening use of the restrictions is undermining confidence the dollar as a reserve currency. "They're sawing the limb that they're sitting on," Putin said.
The Russian president issued a stern warning to Ukraine not to undertake any attacks on Moscow-backed separatists in the eastern part of the country during the upcoming soccer World Cup.
"I hope that things won't get to such provocations but if that does happen, I think that it will have very dire consequences for Ukrainian statehood as a whole," Putin said.