It's Trump Against the Developed World as Tariffs Fray G-7
(Bloomberg) -- President Donald Trump will cut a lonely figure at a meeting of the world's club for wealthy nations this week.
From steel tariffs to Iran sanctions and climate change, the U.S. president will find himself isolated from other Group of Seven leaders at the summit in Quebec. The meetings on Friday and Saturday will be the first opportunity for America's closest allies to express their frustration in face-to-face meetings with Trump after he imposed steel and aluminum tariffs last week.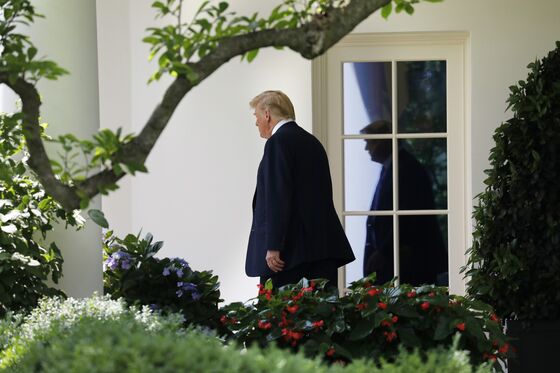 President Emmanuel Macron of France has warned that he will not sign the summit's traditional joint statement unless progress is made on tariffs and other contentious issues, an official in his office said on Wednesday. Macron has concluded that other G-7 leaders must stand up to the American president, added the official, who requested anonymity in keeping with rules of the French president's office.
German Chancellor Angela Merkel is promising to challenge Trump on the environment, and European leaders will be able to press their request for exempting some EU companies from Washington's revival of Iranian economic sanctions.
"The meeting this week will be by far the most dysfunctional G-7," said Ian Bremmer, president of the Eurasia Group, a political-risk consulting firm. "The old order is over. What we are fighting over now, as the new order emerges, is whether the U.S. wants to have the most important seat at the table or not. Right now the answer is no."
White House economic adviser Larry Kudlow tried to play down the tension on Wednesday, describing it a "family quarrel."
"Trump is trying to fix this broken system," Kudlow told reporters, referring to the world trade order. "He's sticking to his guns. He's going to talk to them. The lines are open."
Macron and Canadian Prime Minister Justin Trudeau met Wednesday in Ottawa, capping it off with a friendly, three-hour private dinner, according to a French official in Macron's office. Trudeau and Macron both said they hoped the G-7 would be ambitious -- and agreed that, if unity isn't a realistic option, they shouldn't hesitate to isolate the U.S., the official said.
The French president went further at a news conference with Trudeau on Thursday morning. "None of us is eternal," Macron said when asked about the impact of Trump putting the U.S. at odds with its industrialized allies.
It's a dark turn for the G-7, which first met in 1975 when it included only six countries: the U.S., U.K., Germany, France, Italy and Japan. At the time, it was a forum for market-oriented democracies to discuss economic issues such as the fallout from the first oil shock. Canada joined in 1976.
The Group of 20, which also includes China and emerging economies like South Africa and Turkey, has become the main forum for hammering out a global consensus on economic matters. But the G-7 remains a symbol of the traditional U.S.-led order. During the global financial crisis, the group calmed markets by vowing to "take all necessary steps" to hold together the international banking system.
Now that solidarity appears to be unraveling. The discord comes amid worries that Trump's zeal for tariffs will set off a trade war that undermines the broadest global upswing in years. In its latest forecast, the World Bank listed an outbreak of protectionism as one of the top economic risks.
U.S. tariffs on steel and aluminum are a major sore point. Last week, the president said his administration would levy duties on shipments of the metals from the EU, Canada, and Mexico, which had previously been excluded from the duties.
Finance ministers from the G-7, who were meeting in British Columbia on the day of the tariffs decision, issued a rare rebuke of a member nation, warning that the U.S. tariffs could undermine confidence in the global economy.
The spat undermines the ability of the U.S. to rally support for its push to correct China's unfair trade practices, said Michael Smart, managing director of Rock Creek Global Advisors in Washington and a former international trade director on the National Security Council.
"It appeared the G-7 meeting in June would be an opportunity for an expression of unified commitment to tackle the challenges presented by Chinese policies," Smart said. "Instead, just days before this event, we've repealed the exemption that protected most of the G-7 members, and created an entirely separate fight."
Trump may have another summit in his mind. On June 12, he's scheduled to meet North Korean leader Kim Jong Un in Singapore in a historic meeting over nuclear weapons. A breakthrough would be welcomed by the G-7.
Other issues threaten to heighten tensions within the group. Trump's withdrawal from a nuclear deal with Iran has irritated Europe, which views the agreement as an effective way to control Tehran's military ambitions. G-7 allies have condemned Trump's pullout from the Paris accord on climate change. Talks with Canada and Mexico on a new North American Free Trade Agreement have slowed and Trump is now saying he may seek separate bilateral discussions with Mexico and Canada.
There's little indication Trump will back down on his "America First" agenda. Kudlow expressed optimism the members of the G-7 can work out their differences. But he said the president remains resolute in his desire to "reform" global trade.
"He has always said -- and I agree -- tariffs are a tool in that effort," Kudlow said. "People should recognize how serious he is in that respect."