Euro-Area Exports Fall, German Factories Suffer Another Blow
(Bloomberg) -- Euro-area exports fell for the first time in five years at the start of 2018, dragging on economic growth, which slowed sharply in the period.
Updated first-quarter GDP data showed that government spending stagnated in the three months through March, while exports fell 0.4 percent and net trade proved a drag. The economy expanded 0.4 percent, down from 0.7 percent at the end of 2017, in line with the initial reading from the Eurostat office.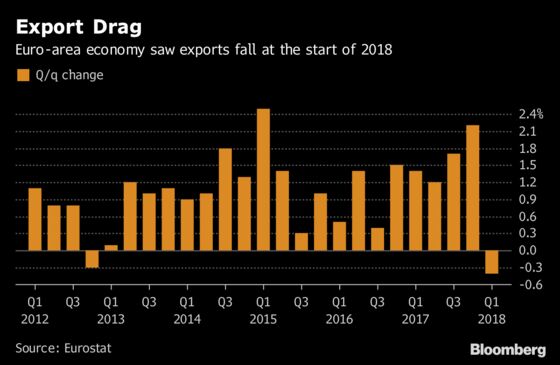 As European Central Bank policy makers prepare for what could be a pivotal meeting next week where they'll discuss the future of their bond-buying stimulus program, one key question is whether growth will stabilize at this new pace or continue to weaken. Factory data on Thursday from Germany, the euro region's biggest economy, provide a reason for concern, as they showed manufacturing orders fell for a fourth straight month.
Measures of confidence in the 19-nation bloc have also weakened, while IHS Markit's gauge of private-sector activity declined in May to the lowest in 18 months.
Despite all this -- and potential risks related to global trade tensions and Italy's new government, ECB Chief Economist Peter Praet has reaffirmed his confidence in the "underlying strength" of the region's economy, and said on Wednesday that the Governing Council will have to make an assessment of quantitative easing at its meeting next week.
The latest disappointing news in the euro region showed German factory orders dropped 2.5 percent in April, defying forecasts that they would gain. From a year earlier, orders fell for the first time since 2016. ING described the numbers as a "cold shower" for the economy.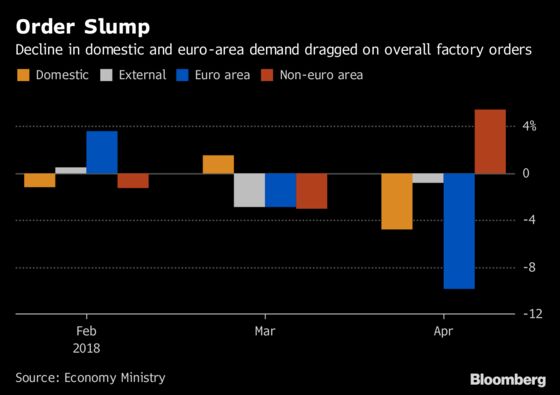 The German Economy Ministry tried to downplay the bad news, saying the order backlog at factories remains "very high." It also said it isn't clear how much global uncertainty is affecting orders.
"German data continues to disappoint to the downside," said Aila Mihr, an analyst at Danske Bank. "It is difficult to say what exactly drives it. My hunch would be a combination of clouded business sentiment in light of rising global trade conflicts and a weaker demand outlook."