Emerging Markets Surprise But the Fed Isn't Blinking: Economy Week
India joined the club of emerging market central banks raising interest rates in a surprise shift as the likes of Turkey to Indonesia seek to navigate a rising dollar, bubbling inflation and a slew of political uncertainties.
The U.S.-China saga continues as global leaders prepare to meet in Ottawa, and Europe showed more cracks albeit not enough to stop the European Central Bank tilting towards tighter monetary policy.
Here's our weekly wrap of what's going on in the world economy:
The global tightening cycle claimed another player, with the Reserve Bank of India unexpectedly raising interest rates for the first time since 2014 just days after the governor publicly pleaded for the Federal Reserve to slow down its hikes. Indonesia's new central bank chief, who increased rates last week in an out-of-cycle meeting, joined him in that call. Turkey also sprung a surprise by boosting its benchmark more than predicted. As investors wonder which country is next, Brazil is wobbling. Drama in Malaysia centered on 1MDB scandal fallout: Bank Negara's governor resigned. Governments across Southeast Asia enacted subsidies and price controls in a bid to tame inflation. Embattled Argentina, whose central bank meets next week, secured a $50 billion stand-by arrangement from the International Monetary Fund as it struggles to regain investor confidence.
Don't bet on the Fed taking pity on emerging markets when its officials meet next week. As for other major central banks, bubbling inflation has the ECB considering its timeline for ditching bond purchases despite Italian politics. The Bank of England could be on the verge of tightening amid healing growth, even as policy makers remain divided.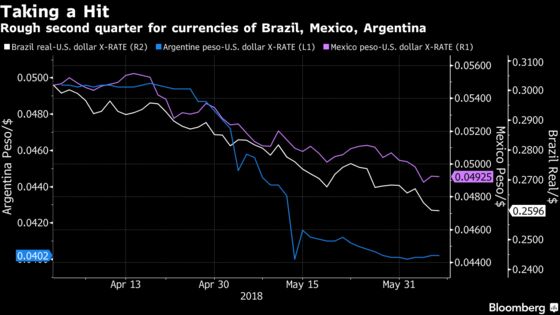 ECB Embarks on the Fine Art of Re-Education: Stephanie Flanders
Trade tiffs carried on between the U.S. and China, with the powers negotiating around alleviating the U.S. trade deficit and easing up on ZTE Corp. penalties. Seeing more bark than bite, economists aren't so worried about tariff impacts yet, though some Chinese exporters already are suffering. Trump is lobbying Republican allies to block restrictions on his tariff powers. Bloomberg Economics sees an emboldened Trump backed by strong U.S. economic momentum, with solid jobs numbers and service industries picking up. All the tensions have the rest of the world pointing fingers, with Group of Seven finance chiefs playing G6+1 in a rare rebuke of the U.S. A White House economic adviser tells us not to blame Trump, and that the U.S. won't quit Nafta.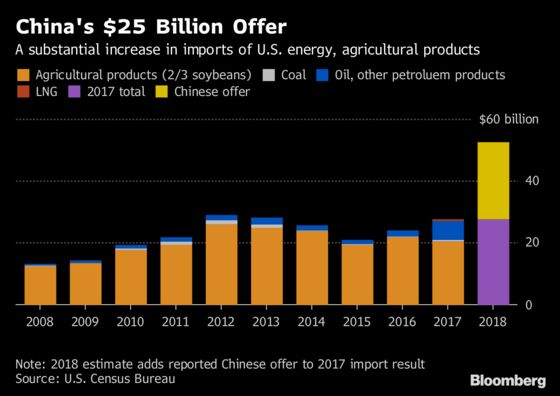 CHINA INSIGHT: 2H Outlook – Slower, But Not Much Slower
American businesses are itching for the U.S. to adopt some of China's ways in the tech war of the decades to come, while an emerging-markets expert says we should all chill about China's tech threat. Listen to how the centuries-ago opium wars still frame China's approach to trade threats, in the Benchmark Podcast. And China's ramping up its long-time campaign to get the yuan more street cred in global markets.
Italy might have formed a government, but there's still plenty to be stressed about across the continent. The Italian populists will get a big test on how to deal with labor-market issues, and investors are still wary of their chances in passing. Nationalists in Slovenia won general elections, joining Italy, Austria and Hungary in the anti-immigrant wave, and Bloomberg Economics charts how populist risk is on the rise globally, which could threaten growth and stability. Greek debt talks are floundering as a June deadline looms. And euro area growth is losing steam, with German and French services slowing. U.K. businesses are urging the prime minister just to get on with it on Brexit.