Consumer Credit in U.S. Posts Smallest Gain in Seven Months
(Bloomberg) -- U.S. consumer debt outstanding rose in April by the least in seven months, reflecting a slowdown in non- revolving credit, Federal Reserve figures showed Thursday.
Highlights of Consumer Credit (April)
Total credit increased $9.3b m/m (est. up $14b) after an upwardly revised $12.3b gain (prev. $11.6b)
Non-revolving debt outstanding grew $7b m/m after a $13.4b increase
Revolving credit outstanding climbed $2.3b m/m, the most this year, after a $1.1b decline in March
The slowdown in non-revolving debt, which includes education and auto loans, marks a shift from the first three months of the year when such credit rose by an average $13.5 billion. The figure may partly reflect more moderate demand for motor vehicles following several years of robust gains.
Meanwhile, revolving credit picked up in April, representing an uptick from the subdued pace in the first three months of the year. The Fed's consumer credit report doesn't track debt secured by real estate, such as home equity lines of credit and home mortgages.
With less debt outstanding and more after-tax incomes this year, American consumers are better positioned to boost spending.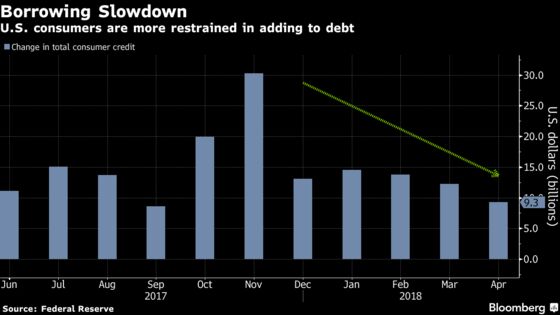 Federal government loans outstanding, which is mainly for education, rose by $2 billion in April, before seasonal adjustment
Credit increased at a seasonally adjusted annual rate of 2.9 percent after a 3.8 percent pace in March