BOE's Ramsden Sees Economy Rebounding, Wage Growth Picking Up
The early signs are that the U.K. economy is bouncing back in the second quarter and a period of "unusually subdued" wage growth is coming to an end, according to Bank of England policy maker Dave Ramsden.
In a speech in London Thursday, Ramsden, who voted against the BOE's rate hike in November, signaled that he is now signed up to the Monetary Policy Committee's central outlook that an "ongoing tightening of monetary policy over the forecast period" will be necessary if the economy evolves as forecast. Still, the outlook for policy remains conditional on the data, he said.
Ramsden said that BOE officials were right not to lift interest rates last month to judge whether the first-quarter slump was, as they expected, a "temporary, weather-related softening," or something more material.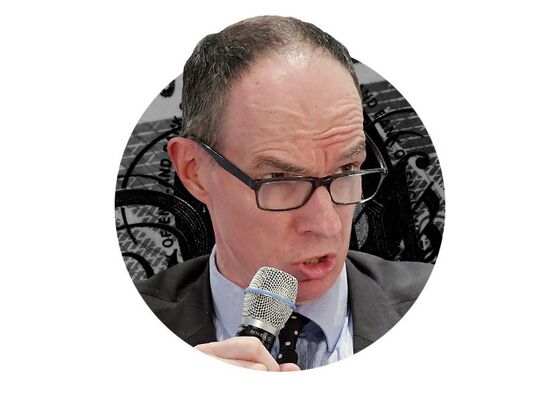 While it's "still early days," the "data we have had so far suggests our interpretation of the slowdown in the first quarter as temporary looks to be being borne out," Ramsden said. "So far at least our May judgment looks on track."
The pound climbed slightly after the speech, erasing a daily loss to trade at $1.3422. Investors are currently pricing in an about 60 percent chance of a rate hike in August, up from 40 percent at the end of last week.
Ramsden noted that Brexit remained the greatest source of uncertainty for the U.K., and that there were risks that consumption might slow further as households adjust to lower real incomes. Still, he said that even more subdued wage growth than the historical norm could fan price gains, and that, without a tightening of policy, inflation will stay above target over the forecast horizon.
Officials' decision in February to lower the estimate for the economy's equilibrium unemployment rate to 4.25 percent from 4.5 percent was "a judgment that there was indeed some more slack in the labor market," he said. That left him "more comfortable with the balance of risks around the MPC's central assumptions than I had been previously."
Ramsden also said the U.K.'s "period of unusually subdued growth in wages appears to be coming to an end." Households were squeezed for a year as accelerating inflation, driven by the pound's drop since the decision to leave the EU, outpaced wage growth. Brexit may have inspired workers to be even more flexible in their wage demands, or employers may be "acting in a more precautionary way" when it comes to determining pay, he said.
While consumption growth has slowed, it hasn't changed to extent one might expect given households' economic situation, Ramsden said. Households have, in aggregate, reduced their savings to keep up their living standards in the wake of the Brexit vote.
"There must be a risk that consumption could adjust further," he said. "'Whether households will maintain that lower rate of saving, as in the MPC's central forecast, remains to be seen."
Should demand in the economy turn out weaker than expected, the BOE still has tools to provide stimulus despite interest rates being so close to zero, Ramsden told the audience after the speech.