Stocks Close Higher as Risk-Off Sentiment Fades: Markets Wrap
(Bloomberg) -- U.S. equities held on to a Friday afternoon rally as the risk-off sentiment that gripped investors late in the week subsided. Brazil's real surged after the central bank pledged to support the currency, helping to reduce fears of an emerging markets contagion.
The S&P 500, Nasdaq Composite and Dow Jones Industrial Average all finished the week in positive territory. President Donald Trump traveled to Canada for the Group of Seven meeting, vowing before he left the U.S. that he won't bend to longtime allies on tariffs. Treasury yields edged higher, while the dollar was little changed.
"Market participants originally were reacting quite strongly to some of the trade rhetoric," Sinead Colton, global investment strategist and portfolio manager for the Dreyfus Dynamic Total Return Fund for BNY Mellon, said by phone. "Now it seems to be built in as an expectation that this will be resolved before it ever becomes a big issue to hit GDP in particular areas."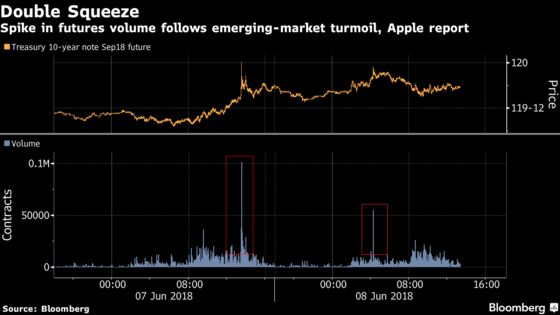 After appearing to regain some swagger this week, global markets dropped back into risk-off mode Thursday as old worries moved to the forefront. Underwhelming data releases from France and Germany continued a run of poor economic news in the euro area, while growing cracks in the developing world are adding to concerns. The Stoxx Europe 600 Index followed Chinese and Hong Kong shares lower.
Emerging markets remained turbulent. The real jumped as much as 4 percent, leading world gains, after the central bank pledged to flood the market with currency swaps. Investors earlier this week ignored central bank attempts to bolster the currency, sending the real to a two-year low. South Africa's rand tumbled and bond yields soared as disappointing economic data this week persuaded traders that there's no chance of a rate increase any time soon.
Elsewhere, oil closed near $66 a barrel in New York amid signs OPEC nations may clash over production policy when they meet later this month.
Terminal users can read more in Bloomberg's Markets Live blog.
These are the main moves in markets:
The S&P 500 Index rose 0.3 percent to 2,778.99, the Dow Jones Industrial Average increased 0.3 percent to 25,316.53 and the Nasdaq Composite Index gained 0.1 percent to 7,645.51 as of 4:05 p.m. in New York.
The U.K.'s FTSE 100 Index dropped for a second day, falling 0.3 percent.
The MSCI Emerging Market Index slumped 1.1 percent.
Japan's Nikkei 225 Stock Average fell 0.6 percent, the first decline in five days.
The Stoxx Europe 600 Index fell 0.2 percent, the fourth straight decline.
The Bloomberg Dollar Spot Index fell less than 0.1 percent.
The euro fell 0.3 percent to $1.1769, the first retreat in a week.
The British pound weakened 0.1 percent to $1.3408, the first drop in four days.
The Japanese yen strengthened 0.2 percent to 109.46 per dollar.
South Africa's rand sank as much as 2.4 percent before trading at 13.06 per dollar, a 0.6 percent decline.
The yield on 10-year Treasuries rose two basis points to 2.94 percent.
Italian 10-year yields rose seven basis points to 3.13 percent, , bringing to the rise for the week to 42 basis points.
Germany's 10-year yield fell four basis points to 0.45 percent.
West Texas Intermediate crude dropped 0.5 percent to $65.65 a barrel.
Gold climbed 0.1 percent to $1,298.87 an ounce.