Thailand's Minor to Bid for All of Spain's NH Hotel Group
(Bloomberg) -- Thailand's Minor International Pcl said it would bid to acquire all of NH Hotel Group SA after agreeing to buy HNA Group Co.'s stake in the Spanish hospitality chain. Minor's shares climbed the most since 2016.
The Bangkok-based company will make a tender offer worth as much as 1.64 billion euros ($1.92 billion) for the 65 percent of NH Hotel it doesn't own after agreeing to buy a stake of 25.2 percent in fully-diluted terms from HNA for 619 million euros in a two-stage transaction, Minor said in a statement Tuesday.
The bid of 6.40 euros per share, set to go ahead after the second stage of the transaction completes in mid-September, comes at a discount to NH Hotel's closing price on Tuesday of 6.54 euros.
The purchase will create a network of 540 hotels in Asia, Oceania, the Middle East, Africa and Europe. Minor said its aim is to own from 51 percent to 55 percent of NH Hotel, which will remain as a company listed in Madrid. Minor has already announced it controls 9.5 percent of NH Hotel acquired from Oceanwood and other minority shareholders.
Under the terms of the transaction with HNA, Minor will acquire a 16.8 percent fully-diluted stake in a first stage. Once that part of the deal is complete this month, it will buy a further 8.4 percent stake by mid-September.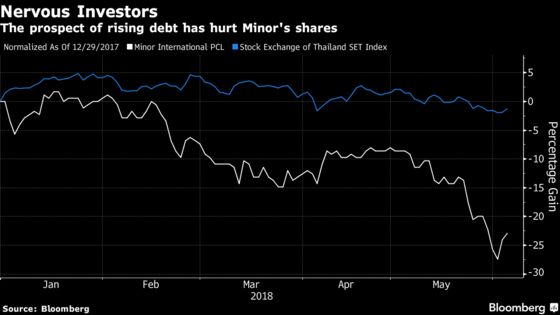 If the tender offer results in a shareholding of over 68 percent, Minor will prepare other funding options. For a 55 percent stake its source of funds through corporate bonds would be 1.4 billion euros.
Minor was formed over a decade ago and is one of Thailand's largest hospitality and leisure firms, with more than 160 hotels and resorts, 2,000 restaurants and 400 retail trading outlets worldwide, according to the company's website.
The firm plans to use bank loans to finance the purchase of HNA's stake, Chief Executive Officer William Heinecke said in an interview on Monday. Heinecke said debt-to-equity would climb to Minor's internal target of 130 percent, adding NH Hotel is highly profitable and that the deal would add significant value for Minor's shareholders.
"NH is a very strategic opportunity for us," he said. "There's no overlap between us and NH, they have virtually no presence in Africa, Middle East, Asia or Australia, where we're extremely strong."
Minor will seek shareholder approval on Aug. 9 for both the planned transaction and issuance of as much as 50 billion baht ($1.6 billion) of bonds, it said in a Thai exchange filing Wednesday.
While the prospect of rising debt had earlier weighed on Minor's shares, the stock rallied this week and jumped as much as 6.7 percent Wednesday, the most intraday since Oct. 14, 2016. That pared this year's loss to 18 percent, compared with a 0.8 percent drop in Thailand's benchmark SET index.