Merkel Warns of G-7 Summit Split Over Trump's `America First'
(Bloomberg) -- Chancellor Angela Merkel vowed to challenge Donald Trump on trade and climate at this week's Group of Seven summit, saying the lack of room for compromise means leaders may fail to agree on a final statement.
Trump's "America First" doctrine shows that "we have a serious problem with multilateral agreements," Merkel told German lawmakers on Wednesday, two days before the G-7 summit starts in Canada. Failure to reach common ground could lead to the highly unusual step of host Canada issuing a concluding statement not agreed by all participants, Merkel said.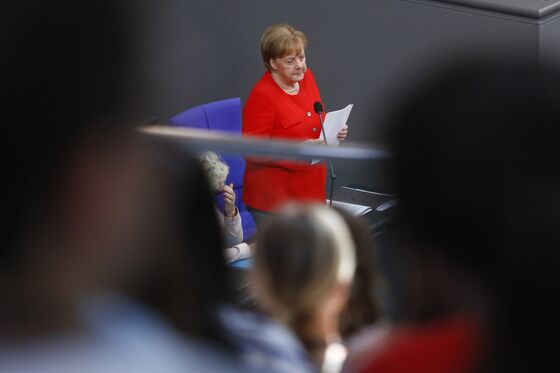 Since taking office, Trump has pulled the U.S. out of international accords on climate change and Iran's nuclear program, ignited a global trade conflict with key U.S. partners including the European Union and publicly slammed allies like Germany for not spending enough on defense. For the White House, those moves mean "America is winning on the world stage," according to a fact sheet published June 4 to mark 500 days of the Trump administration.
'Controversial Discussions'
In an interview with Bloomberg Television Wednesday, former NATO Secretary General Anders Fogh Rasmussen called Trump a "fully fledged American isolationist" and said the U.S. leader has opened the door to the likes of Russia's Vladimir Putin and China's Xi Jinping to play a bigger role on the global stage.
"The world is on fire. Wherever you look you have conflicts," the former Danish prime minister, who now runs his own consultancy, Rasmussen Global, said. "Now you are lacking American global leadership and this is why autocrats have a more easy game to play."
Merkel said she plans to speak to Trump specifically about trade at the G-7. "There will be some controversial discussions" at the gathering, she told lawmakers. Germany will make sure that what was agreed on trade and climate at the last G-7 summit and at a G-20 meeting will be maintained in joint statements from the two-day meeting in Quebec "if any are agreed."