Inflation Lull Keeps Polish Rates Shackled as Region Diverges
(Bloomberg) -- Polish rate setters kept borrowing costs unchanged, sticking to a wait-and-see policy that may last into the next decade as the central bank diverges from other countries in the region already tightening monetary policy.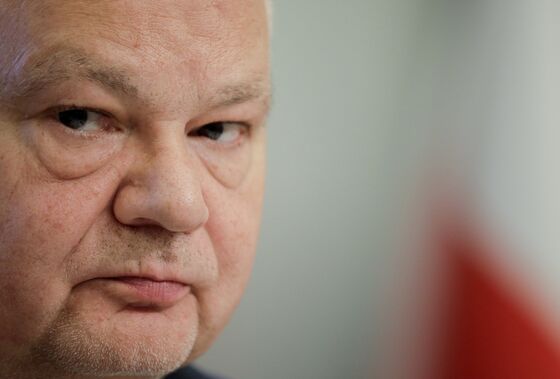 Below-forecast inflation and higher-than-estimated economic growth have given the Monetary Policy Council all it needs to stick with Governor Adam Glapinski's stance that rates may stay on hold until 2020. It kept the key benchmark at a record low of 1.5 percent at a meeting on Wednesday, in line with the forecasts of all 32 economists in a Bloomberg survey.
The stability pledge puts Poland at odds with policy makers in Romania and the Czech Republic, who are weighing tightening policy further after three hikes each since last year. But in contrast to price growth taking hold in those countries, Polish inflation is seen decelerating despite wages expanding 7.8 percent from a year earlier, the fastest pace since the start of 2012.
"The probability of monetary tightening in 2019 remains low," Katarzyna Rzentarzewska, an economist at Erste Group AG in Vienna, said before the decision was announced. "Despite robust growth and a tight labor market, inflationary pressure remains limited, allowing to keep the rate flat for longer."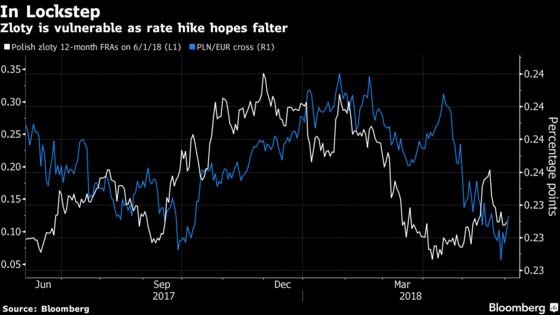 Glapinski will probably reiterate his outlook at a 4 p.m. news conference, stressing that stability in rates serves Poland best as it helps keep economic growth balanced. While policy makers restored the option in the minutes of their May meeting of a rate increase if inflation quickened, price growth came in at a lower-than-expected 1.7 percent in April. The economy expanded 5.2 percent in the first quarter, compared with the same period of 2017.
Inflation has undershot the 2.5 percent mid-point goal almost continuously since 2012 and, according to the central bank's projection, it will barely exceed the target next year.
Central bankers have "now realized that the strong growth and high wage inflation will not filter through to inflation to the expected extent," Esther Reichelt, analyst at Commerzbank AG, said in a research note before Wednesday's decision. "On the contrary, despite slight upside risks for inflation due to rising energy prices, inflation remains well below" target.
What's more, the zloty has stabilized from the 14-month low it plunged to last week, trading little changed at 4.2840 against the euro at 12:24 p.m. in Warsaw. It is 2.4 percent weaker against the common currency this year.