Emerging Market Central Bankers Say Fed Must Be Mindful of Rout
(Bloomberg) -- Indonesia's new central bank chief joined his counterpart in India in calling on the Federal Reserve to be more mindful of the global repercussions of policy tightening amid a rout in emerging markets.
In his first interview with international media since he took office two weeks ago, Bank Indonesia Governor Perry Warjiyo said the pace of the Fed's balance sheet reduction was a key issue for central bankers across emerging markets. Reserve Bank of India Governor Urjit Patel made similar comments earlier this week, arguing that slowing the pace of stimulus withdrawal would support global growth.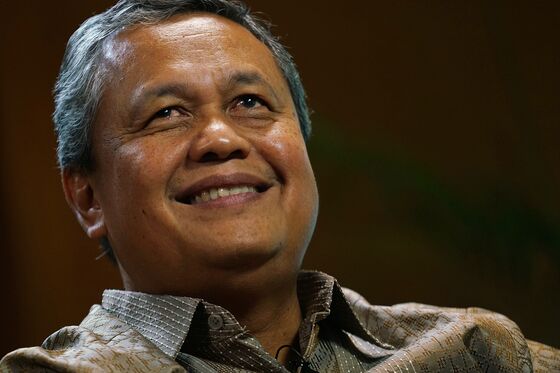 "We know every country must decide their policy based on domestic circumstances but look, you have to take account of your actions and the impact of your actions to other countries, especially the emerging markets," Warjiyo said in Jakarta on Wednesday.
With the Federal Reserve proceeding with its policy tightening, and another interest-rate hike expected next week, emerging markets across the globe are bracing for a further selloff. Bank Indonesia has already raised its key rate twice to help bolster its currency, while the Reserve Bank of India on Wednesday became the latest to move, increasing its policy rate by 25 basis points to 6.25 percent.
"Communication is very important," Warjiyo said. "We are looking for the Fed to communicate more clearly the intention of their policy so the market can understand clearly and also react and all the central banks can also anticipate and consider it in their policy making."
The comments underscore the difficult policy choices central bankers are being forced to make as they try to respond to external forces driving their currencies.
South African central bank Governor Lesetja Kganyago said on Tuesday the Fed is communicating its intentions better than it did in 2013 during the taper tantrum, but its job is being complicated by U.S. fiscal policy.
"Nobody figured out that the U.S. could embark on all of these trade policies that they had embarked on and that complicates the work of the Fed," he said in Johannesburg. "I don't think that they had factored in earlier that there will be stimulus that had been put in for the U.S. economy from the fiscus."
Policy normalization in Japan and Europe will bring more uncertainty. Warjiyo said that while the "dollar is king" at the moment, it may lose that status next year.
"There are three global players that impact the future of interest rates and exchange rates. Now it's only the U.S.," Warjiyo said. "That's why the U.S. and the dollar are king. But next year if Europe starts normalizing, Japan starts normalizing, then I don't think the U.S. or the dollar will be the only king."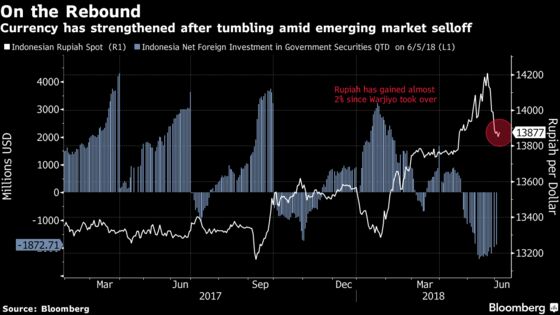 In Indonesia, Warjiyo has moved decisively to support the rupiah, holding an out-of-cycle meeting last week in which he increased the benchmark rate by 25 basis points to 4.75 percent.
By pre-empting the uncertainty in financial markets, the central bank has been able to stabilize the currency, Warjiyo said on Wednesday, adding that more rate hikes are possible if financial and economic conditions warrant it.
"Yes, there is a possibility of a rate hike," Warjiyo said. "Of course, the magnitude and timing will be measured and will depend on our calibration of new information that will be coming."
Indonesia has been one of the hardest hit economies in Asia amid a global selloff, with investors dumping almost $1.9 billion of government bonds since the end of March. The central bank has also been leaning heavily on its stash of foreign reserves, draining more than $7 billion since the end of January as it intervened to help stabilize the rupiah.
Warjiyo said the bank will continue to intervene in markets if conditions warrant it.
Read More: Indonesia's Central Bank Chief to Use Rates in Measured Way: Q&A
The rupiah has gained more than 2 percent against the dollar since the governor took office on May 24, among the best performers in Asia. It closed 0.1 percent lower at 13,870 against the dollar on Thursday.
Even though currency, bonds and stock markets will be closed from June 11 through to June 19 to celebrate the end of the Muslim fasting month, Warjiyo said the central bank will be closely monitoring global market reaction to the Fed's policy meeting and will take steps to restore confidence.
He said a Fed hike next week was highly likely, and sees a 60 percent chance of an increase in September, with possibly more tightening in December.