Oil Holds the Key as Asian Currency Rally Reaches Crossroads
(Bloomberg) -- Emerging Asian currencies have bounced back over the past two weeks as oil prices have fallen. Their recovery will face a crucial test when the world's major crude producers meet in Vienna later this month.
Energy exporters gather in the Austrian capital on June 22 to decide whether to maintain output curbs that propelled oil to a three-year high last month, or follow a proposal for reviving production discussed by Saudi Arabia and Russia. Indonesia's rupiah and India's rupee have both rallied about 2 percent since the day before the Saudi-Russian talks on May 25.
"Since the oil market is pricing in a boost in production, any disappointment in output which pushes oil prices higher should be negative for emerging Asian currencies," said Maximillian Lin, an emerging markets Asia strategist at NatWest Markets in Singapore.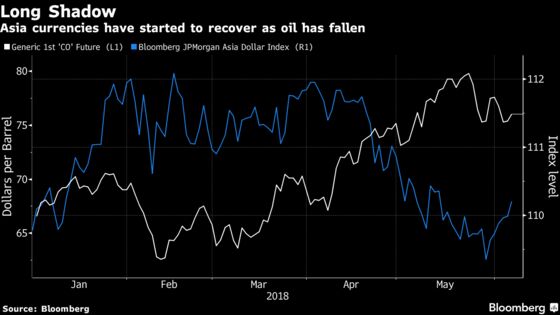 Brent crude has dropped to $75.75 per barrel from as high as $80.50 in May amid speculation an increase in supply will curtail a rally that started in early 2016. Energy-importing nations such as India and Indonesia are particularly vulnerable to rising oil prices as they push up inflation and put pressure on their trade balances.
The Bloomberg JPMorgan Asia Dollar Index, which tracks 10 Asian currencies against the greenback, has rallied 0.8 percent from this year's low on May 29.
No consensus has so far emerged among the 24 oil-exporting nations that will gather in Vienna. The outcome is sensitive because Russia and Saudi are proposing raising production to make up for losses from other members. Iraqi Oil Minister Jabbar al-Luaibi told Reuters a production increase isn't on the table as the market is stable and prices are good, highlighting the division among producers.
While the rupee, rupiah and Philippine peso stand to lose the most from costlier crude, the ringgit is seen benefiting as Malaysia is the region's only major net energy exporter.
Here are comments from portfolio managers on what costlier crude means for Asia:
Adam McCabe, head of Asian fixed income at Aberdeen Standard Investments in Singapore:
"The rising oil price is having an impact on importers, such as India, but one should not forget the structural reforms that are underway"
Indonesia is vulnerable due to a widening current-account shortfall and a high level of foreign ownership of its bonds, while Thailand's sizable current-account surplus will provide a buffer
Higher prices would help Malaysia offset some of the fiscal slippage arising from the cancellation of its goods and services tax, although any boost from increased energy revenues would be temporary
Tuan Huynh, chief investment officer for Asia Pacific at Deutsche Bank Wealth Management in Singapore:
India could be worst hit as more expensive crude may further boost the nation's net oil imports, which stood at about 2.5% of GDP in 2017
A sustained bounce in oil prices may force Asian central banks to accelerate the pace of interest-rate increases, with India, Indonesia, Philippines, South Korea and Taiwan possibly tightening in 2H. Higher borrowing costs could lend some support to currencies and mitigate the negative impact from higher oil prices
Malaysia's current-account excess was boosted by higher oil receipts in 1Q but risks remain due to policy uncertainty after the unexpected general election outcome
Manu George, fixed-income director at Schroder Investment Management Ltd. in Singapore:
India and Philippines are the most sensitive to increased oil prices, followed by Thailand and Indonesia
Quickening inflation stemming from higher energy prices and faster growth would probably prompt Asian central banks to hike rates; Singapore, Thailand and potentially India are likely to follow the Philippines in tightening
"It's still a bit early to engage meaningfully within the currency space. However, we believe that the market is getting cheaper and attractive from a fundamental perspective and will look to engage in countries with good fundamentals whose bonds or currencies have cheapened excessively"