Latest Milestone for U.S. Job Market: More Openings Than Workers
(Bloomberg) -- The U.S. labor market has reached another milestone: For the first time in decades, there are more job openings than unemployed Americans who could fill them.
Vacancies rose to a fresh record of 6.7 million in April, according to the Job Openings and Labor Turnover Survey, or JOLTS, released Tuesday by the Labor Department. More importantly, upward revisions to the prior month made it the first in government data back to 2000 that openings exceeded the number of unemployed. That gap, of 48,000 in March, grew to 352,000 in April and is poised to keep widening, as the number of unemployed has already dropped further in May.
By another reckoning, the gap is even more historic. The number of available workers per open position is the lowest since January 1970, based on calculations from Nick Bunker, a senior policy analyst with the Washington Center for Equitable Growth. While the Labor Department series stretches back only to 2000, Bunker used data on openings from research by Regis Barnichon, now an economist at the Federal Reserve Bank of San Francisco.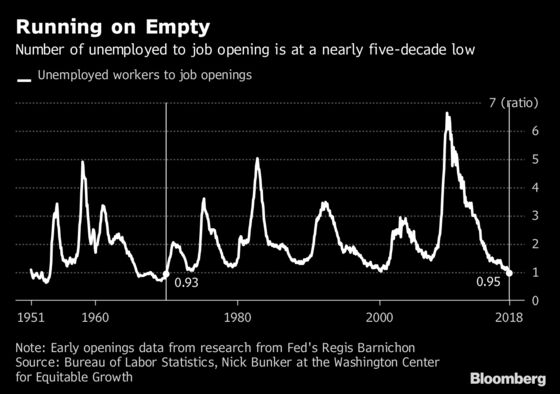 With hiring growing at a breakneck pace, the pool of unemployed people is shrinking surprisingly quickly for such a late stage of the economic expansion that began in mid-2009. Fed policy makers, widely expected to raise interest rates when they meet June 12-13, are bound to take note of the fast-disappearing slack.
But the abundant job openings aren't necessarily all good news for those who are still unemployed. Some may lack relevant skills or an ability to relocate, while others may be reluctant to accept a position with lower pay or in a different field. And the count of unemployed doesn't include Americans who are out of work but not actively looking for job.