In G-20, 41% of GDP Controlled by Populists vs 4% in 2007
(Bloomberg) -- The establishment's sway in major economies is on the wane.
In the Group of 20, just 32 percent of gross domestic product is controlled by mainstream democratic parties, down from 83 percent in 2007, according to Tom Orlik at Bloomberg Economics. Over the same period, the power of populist parties' has surged to 41 percent of GDP from 4 percent.
"That's a significant shift in the way the world economy is run," Orlik and Associate Economist Justin Jimenez said in a Global Insight article Tuesday. "So far it has not had a major negative impact on growth and financial stability. Maybe it's only a matter of time?"
G-20 GDP Share by Governance, Labor Share of Income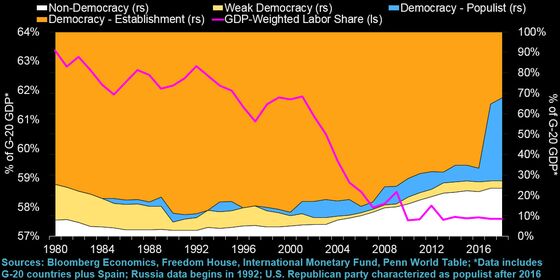 At the heart of the rise of populism and authoritarianism is a failure by Western democracies to manage the forces unleashed by globalization and technology. The specific catalyst was the 2008 global financial crisis and the high unemployment that followed, which reflected the policy failures of mainstream parties.
Populist parties -- which claim to defend the common man against corrupt elites, offering common-sense solutions to complex policy debates, and national unity above cosmopolitan inclusion -- have risen into the vacuum created by the financial crisis.
Moreover, the rise of China means authoritarian regimes, with strong central power and limited political freedom, are playing an expanded role.
Top Parties in Western Democracies -- Share of Vote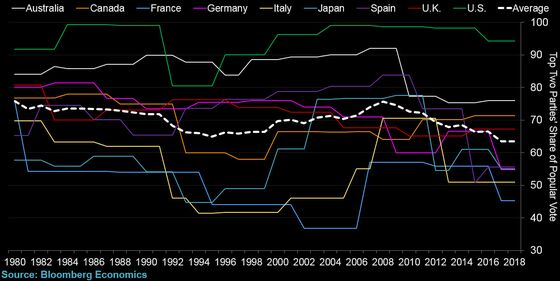 Non-democratic regimes: China, Russia, Saudi Arabia and Turkey are now managing 24 percent of the G-20's GDP; indeed China accounts for almost 19 percent, up from 8 percent a decade earlier.
But it's not time to pull out the "end is nigh" placards yet, Orlik said. For the G-20 as a whole, GDP growth accelerated to 3.8 percent in 2017, the fastest pace since 2011. In part, he said, that's because populists got lucky: they fed off economic discontent from the financial crisis, but ultimately inheriting an upswing. The U.S. fiscal package and a pro-business stance in China and India are also helping.
But there's more to it than dump luck and stimulus. Some aspects of good governance are more important for growth than others, Orlik said, adding this may be uncomfortable for democracy advocates.
Governance vs Growth -- Breakdown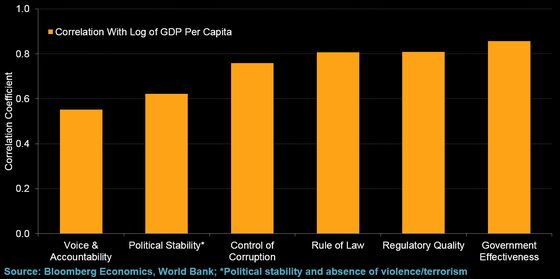 "High-quality regulation and government effectiveness correlate more closely with growth than democratic values like voice and accountability," Orlik notes. "Looking at the G-20 in those terms, the trajectory on governance looks less alarming. Democratic standards are deteriorating, but quality of regulation and government effectiveness are more stable, even edging up in recent years."
But, Orlik adds, government effectiveness and high-quality regulation are tough to maintain in the absence of policy debate and accountability for leaders. So he remains skeptical that the new rulers of the world's major economies will be able to decouple long-term growth from the institutions that underpin good governance.