German, French Services Cool as Euro Area Growth Loses Steam
(Bloomberg) -- Services in the euro area slowed more than expected in May, led by the region's two biggest economies.
A purchasing managers' index of services fell to 53.8 on Tuesday, slightly below the initial estimate and down from 54.7 in April. While still above 50, indicating expansion, the report adds to signs that growth in the 19-nation currency bloc may be losing momentum.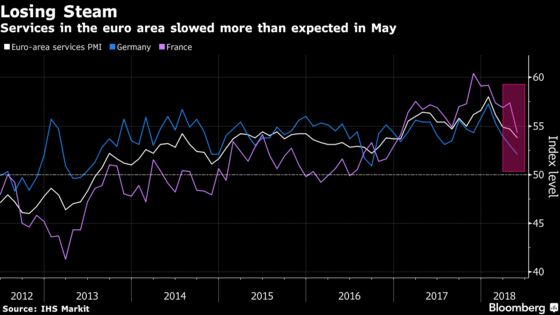 "The region is on course for its worst quarter since 2016," said Chris Williamson, chief business economist at IHS Markit. The readings indicate growth of 0.4 percent to 0.5 percent in the second quarter, "but there is much uncertainty as to whether the pace will continue to weaken in coming months."
The composite PMI index was unchanged from its flash estimate of 54.1, an 18-month low.
European Central Bank officials are carefully watching economic reports as they prepare to set out the future path for monetary policy. Asset purchases are currently set to expire in September, although they could be extended if the growth and inflation outlook warrants further stimulus.