ECB's Praet Confirms June Meeting Key for Bond-Buying Path
(Bloomberg) -- European Central Bank Chief Economist Peter Praet confirmed that next week's policy meeting will be pivotal for reaching a decision on when to end the institution's bond-buying program.
His comments reinforce the view that the ECB is close to settling the question of how long it will keep buying debt to support the euro-area economy. Bloomberg reported on Tuesday that policy makers are likely to use the June 14 gathering for their first formal discussion on winding down the program, and could make a public announcement on when that will happen.
"It's clear that next week the Governing Council will have to make this assessment, the assessment on whether the progress so far has been sufficient to warrant a gradual unwinding of our net asset purchases," Praet said in a speech in Berlin on Wednesday.
Bundesbank President Jens Weidmann said in a video address following the speech that market expectations for bond-buying to end this year are "plausible." Dutch governor Klaas Knot said in The Hague that it would be "reasonable" to announce an end to asset purchases soon.
The euro rose 0.3 percent to $1.1754 as of 11:09 a.m., gaining for a third day.
"We see a chance that the ECB will announce an end-date to quantitative easing at the June meeting," said Frederik Ducrozet, an economist at Banque Pictet & Cie in Geneva. "Praet's speech is providing us with a foretaste of the June statement, in my view, which should describe the ECB's growing confidence over the inflation outlook and pave the way for a short tapering."
The remarks are significant because Praet crafts the policy proposals for the Governing Council. He also said acknowledged "waning market expectations of sizable further expansions" of QE, and said they reflect an improvement in the inflation outlook. Bond purchases are currently intended to run at 30 billion euros ($35 billion) a month until at least September.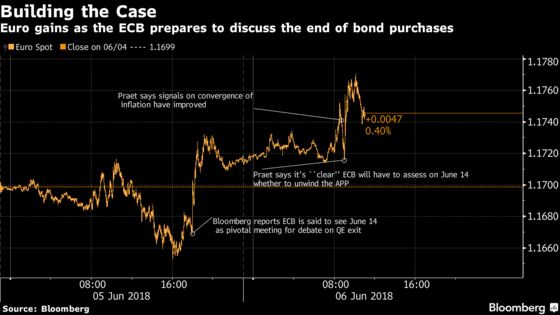 While some members of the council see next week as a real chance for policy change, according to euro-area officials familiar with the matter, it's possible nothing will materialize. President Mario Draghi may use his press conference to signal an announcement will come in July, according to one of the people. An ECB spokesman declined to comment.
Praet said he wouldn't prejudge the council's conclusions.
Even just having the conversation though would be a significant leap forward on the path to unwinding unconventional stimulus, after months of avoiding formally addressing the matter. In April, Draghi kept the Governing Council's deliberations away from the future path of monetary policy despite a plea from Austria's Ewald Nowotny to the contrary.
June may prove to be a critical opportunity. While economic growth has slowed from last year's decade high, the expansion is intact and inflation jumped last month. A decision next week would also be backed by fresh economic forecasts. The bond-market scare that hit Italy last week and showed sign of spilling over into neighboring countries appears to be contained for now.
By July, the outlook may appear more clouded. Inflation is expected to slow as energy costs come off a peak, and spending plans by Italy's new government could still bring it into conflict with its European Union partners. The nation's bonds slid during Prime Minister Giuseppe Conte's maiden speech on Tuesday.
Executive Board member Sabine Lautenschlaeger said last week that June might be the month to decide "once and for all" to gradually conclude net asset purchases by the end of this year.
More cautious officials are likely to point to the risks posed by an escalating trade dispute with the U.S., as well as to recent economic data. Purchasing managers' indexes published Tuesday showed services activity in the euro area slowed in May, led by Germany and France, the region's two biggest economies.
Preparations for the June meeting still have a way to go. They'll include the finalization of the economic projections, a meeting of the committee that offers policy options, and a session of the six-member Executive Board that crafts proposals for the Governing Council. That'll all happen during a week-long quiet period during which officials aren't supposed to comment on monetary policy.
When the announcement on the end of asset purchases comes, it'll shift the focus to the ECB's other stimulus tools. The proceeds of maturing bonds will continue to be reinvested, and the Governing Council says it expects to keep interest rates at record lows until "well past" the end of net bond-buying.
Estonia's central-bank governor, Ardo Hansson, suggested on Wednesday that the stance on borrowing costs might change faster than investors expect.
"Market expectations are for interest rates to start a moderate rise in the middle of next year," he said in an interview with the Sakala newspaper. "We still have to assess the actual developments. When we're sure that inflation is moderately rising, then the exit could be a bit faster."