Beijing Is the Real Junkie in High-Yield Debt Muddle
(Bloomberg Opinion) -- In China, true private enterprises don't exist. There are only public-private partnerships.
Last week, junk bond yields in Asia jumped the most since 2011 as investors worried about default risks in China. Concerns about the D-word have receded somewhat after the People's Bank of China tweaked the types of collateral it allows lenders to use when they borrow money, a move that's seen as encouraging for the development of a domestic bond market.
While it's well known that local government financing vehicles are ticking time bombs, China's private entities aren't so much in the danger zone, unless Beijing chokes the air out of them in its fervent quest to deleverage.
Beijing Orient Landscape & Environment Co. rattled investors last month when it only managed to sell a tiny portion of its planned 1 billion yuan ($156 million) note issue. The firm last year became something of a market darling because it's an active player in Beijing's public-private partnership drive, helping China to build environmentally friendly water-treatment facilities. Between 2015 and 2017, Orient Landscape received close to 70 projects from the government worth 120 billion yuan, sending it into operating cash flow positive territory.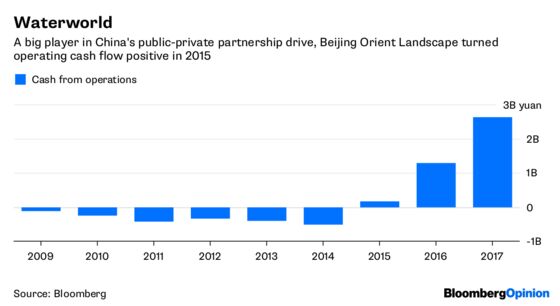 Now, people are asking questions about Orient Landscape's duration risk. Why issue short-dated bonds when its water-treatment projects could last as long as a decade? The company has $484 million in principal and interest due this year and another $266 million in 2019, backed by just $452 million cash on its balance sheet. On paper, a liquidity squeeze would seem imminent.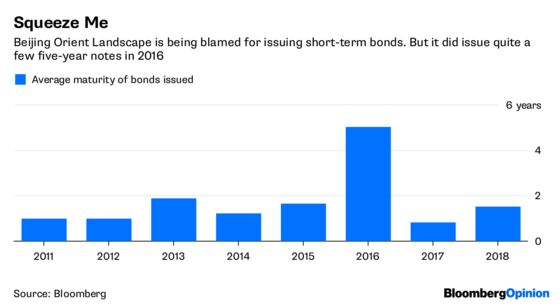 Is Orient Landscape really to blame? Bonds with tenors of five years or more often aren't available to private entities in China, and when Orient Landscape could issue longer-dated notes, it did – in 2016.
Real estate firms are another sorry story.
Country Garden Holdings Co. last week suspended a planned 20 billion yuan bond sale. The South China Morning Post reported that the issue couldn't be approved unless the proceeds were intended to develop homes for rent, an area Beijing wants to encourage. Developer stocks sank on the news.
Granted, many property companies, including Country Garden, are junk issuers. But so long as the yields they're offering are attractive, there will be takers. And if you look at developers' refinancing requirements relative to their cash positions, the D-word hardly comes to mind.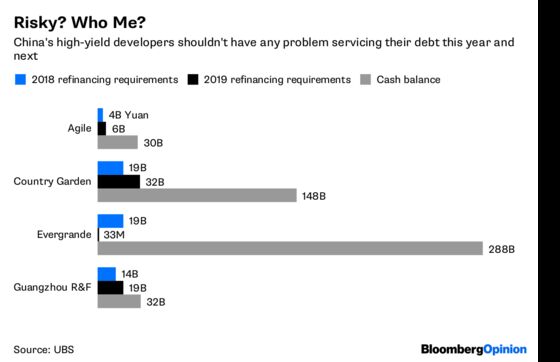 Still, markets are jittery, unsure how committed Beijing is to containing contagion risk. After all, it allowed China Energy Reserve & Chemicals Group Co., a state-affiliated firm, to default, as well as a financing vehicle in Inner Mongolia. Is this just a pause before the tsunami hits?
In China, private enterprises are a bit like oceanfront homes. They'll be the first washed away by any storm.