Turkey Lira Gains as Jump in Inflation Boosts Bets on Rate Hike
(Bloomberg) -- The Turkish lira advanced after a jump in inflation spurred speculation the central bank will raise rates this week.
Government bonds fell after consumer prices rose 12.15 percent in May from a year earlier, matching the median estimate in a survey of economists conducted by Bloomberg. Turkey is prepared to raise interest rates again if inflation accelerates, according to two money managers who met with central bank Governor Murat Cetinkaya and Deputy Prime Minister Mehmet Simsek in London last week.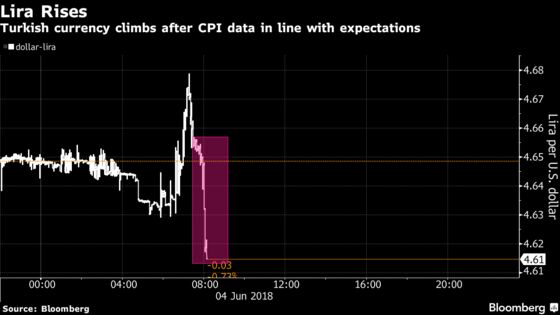 The lira has weakened about 18 percent against the dollar this year, and the depreciation threatens to feed into higher import prices. The central bank is due to meet on Thursday just weeks after policy makers were forced into an unscheduled 300-basis point increase to stem a market rout.
"Inflation is horrible, and the only reason why the market reaction is positive is because the CBRT and government last week pledged to hike if CPI came in faster today," said Cristian Maggio, head of emerging market strategy at TD Securities in London. "So here we are -- the CBRT will be immediately measured on that statement. If they hike, and hike sufficiently, they will be able to support the lira and perhaps extend the rally."
The lira advanced 1 percent to 4.6024 per dollar soon after the data, while the yield on the 10-year government bonds rose four basis points to 14.85 percent.
Moody's said on Friday that Turkey's rating may be cut on uncertainty regarding the direction of the country's macroeconomic policy.
If the central bank doesn't raise rates, "I see very little appetite from the market to give the CBRT any additional benefit of the doubt: inflation is going out of control and action is needed," Maggio said.