These Maps Show How to Unlock North Korea's Economy
(Bloomberg) -- The prospect of a summit between Donald Trump and Kim Jong Un this month is sharpening focus on the dividends should North Korea -- one of the world's poorest nations -- become plugged into one of the globe's most dynamic economic regions.
Seismic political changes on the peninsula would be needed and history tells us that the odds against success are high. Yet an official end to the Korean War and a deal on denuclearization haven't been this tantalizingly close in decades.
Should real progress be made, South Korean President Moon Jae-in's plan involves the development of three economic belts that would link his country's industrial heartland with the North and then with China and Russia.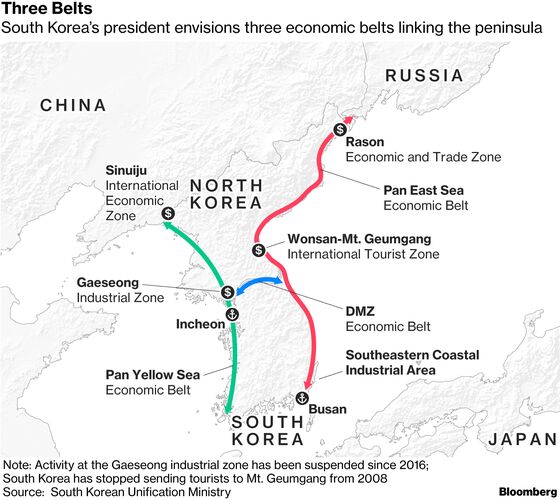 One of the first steps would be reopening rail links and roads between South Korea and the North, a move Moon and Kim agreed to during their April summit. Improved infrastructure would also help North Korea lift barriers to monetizing its mineral resources, including outdated and underdeveloped transportation networks and a severe energy shortage.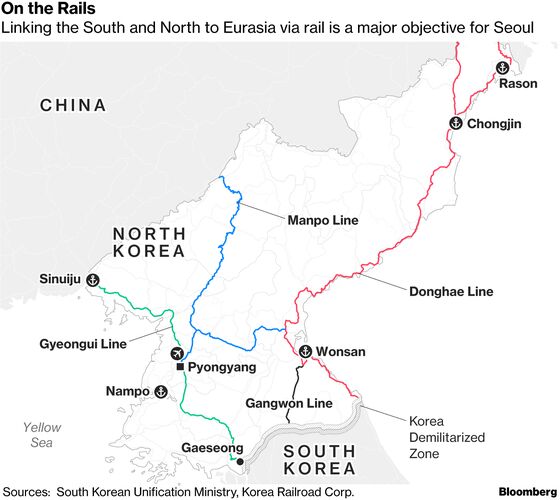 That would pave the way to tap the North's vast mineral reserves, which could be worth $6 trillion, according to a 2013 estimate by the North Korea Resources Institute in Seoul. It's also home to what might be the world's single-biggest rare earth deposit, a crucial element for electronic car engines and many high-tech gadgets the South is so good at churning out.
North Korea could use its minerals as collateral to get funding to develop its economy, according to Lee Yoon-sok, a researcher at the Korea Institute of Finance in Seoul.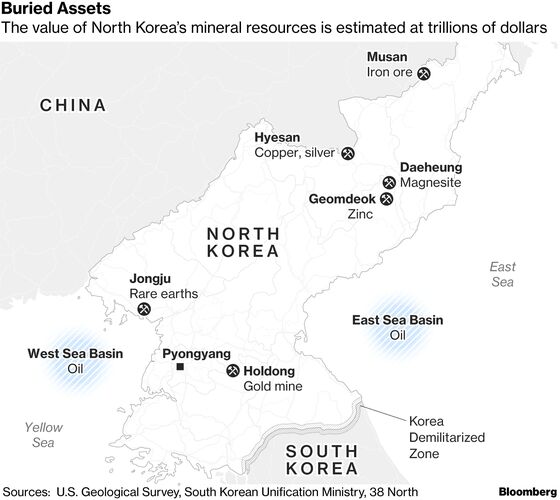 Whether such projects will amount to anything hinges on the outcome of the planned Trump-Kim summit meeting next week in Singapore. Trump said late last week that the meeting will take place on June 12 in Singapore. Economically at least, there could be plenty of upside.