Sweltering May Sees British Consumers Head to the Stores
(Bloomberg) -- U.K. consumer spending grew strongly last month as the warmest May on record saw shoppers flock to the stores in droves.
Spending increased 5.1 percent from a year earlier, the most since April 2017, Barclaycard said Tuesday. In a separate report, the British Retail Consortium said total sales jumped 4.1 percent, the biggest gain since January 2014 when distortions caused by the timing of Easter are excluded.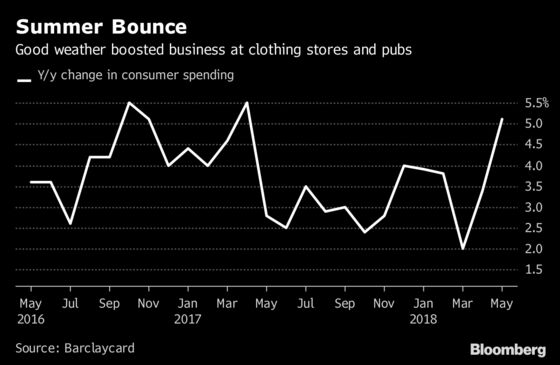 A scorching early May bank holiday and above-average temperatures throughout the month prompted Britons to splash out on everything from summer clothes to barbecues, delivering a boost to retailers after snowstorms hit sales in the first quarter and brought economic growth to a near standstill. Same-store sales rose 2.8 percent last month, the BRC said.
The spending spree will strengthen the case of Bank of England policy makers who expect the first-quarter slowdown to prove temporary and may bolster calls for another interest rate hike as soon as August. Investors currently assign about a 40 percent probability to such a move, up from less than 30 percent last week.
There were more visits to pubs and garden centers last month, and food sales were boosted ahead of the Royal Wedding on May 19. But the underlying picture is one of many stores facing a struggle for survival as a yearlong squeeze on living standards, higher costs and the challenge of online rivals hit profits.
"Despite this more positive set of sales results, the retail environment remains extremely challenging, with trend growth still very low by historical standards," said Helen Dickinson, chief executive officer at the BRC. "Retailers remain focused on investing in new and exciting shopping experiences for the future as margins remain tight and the competition fierce."
John Lewis Partnership, a owner of chains of department stores and grocers, said last week that sales are up 1.5 percent so far this year, compared with a rate of 2.7 percent this time last year. Marks & Spencer Group Plc, a 134-year-old fixture of shopping districts, is closing more than 100 of its biggest stores.