Investor Confidence in Euro Economy Knocked by Italy Turmoil
(Bloomberg) -- Investors are worried that political upheaval in Italy will derail euro-area economic growth.
Concerns over the new populist government's euro-skeptic tendencies and budget-busting spending plans prompted a slide in sentiment among financial-market participants, according to a survey by Sentix. Expectations for the euro-area economy dropped to the lowest since August 2012, when the region was embroiled in a debt crisis that threatened to break up the bloc.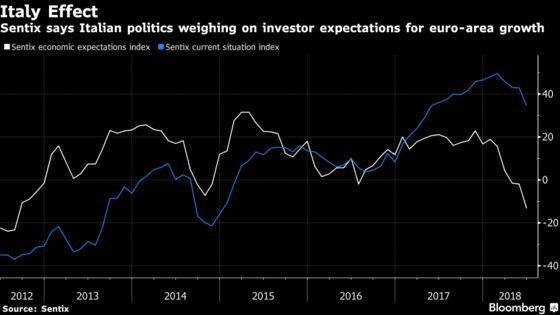 "The new government in Italy is giving investors fears for the euro zone," Sentix said. While U.S. tariffs on steel and aluminum are "also having a negative impact" it added that those concerns "seem to be even lower than those before the government in Rome reopened the euro crisis. Either way, investors expect a serious slowdown in growth."
Italian government bonds slid and yields surged last week amid alarm over a constitutional crisis after President Sergio Mattarella rejected a finance minister critical of the euro. While markets calmed somewhat after the parties tweaked their proposal to form a government, investors are worried that plans to challenge European Union fiscal rules could lead to a showdown further down the road.
What Our Economists Say
"Discontent drove Greece toward populism, now Italy is shifting to political extremes. Where else have economic conditions failed to satisfy? Cyprus, France, Lithuania, Portugal and Spain stand out."
-- David Powell and Jamie Murray, Bloomberg Economics. Click to see their EURO-AREA INSIGHT.
The conflict comes at a crucial time for the euro area, with economic growth apparently slowing. Weaker economic activity combined with declining confidence will complicate the task of the European Central Bank, which is scheduled to meet next week to discuss when it might be able to halt its bond-buying program.
Momentum worldwide has been cooling in recent months. A global Purchasing Managers' Index on Friday indicated the second quarter of 2018 will see weaker growth than the first.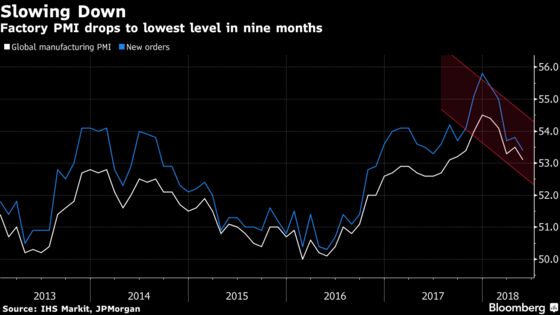 The Sentix survey showed that expectations for Germany, the euro zone's largest economy, also slid to the lowest since August 2012. While record-low unemployment is supporting the nation's domestic consumption, exports are under pressure.
"Germany seems particularly vulnerable to an expansion of trade disputes with the U.S.," Sentix said. "The German economy, which seemed invulnerable at the beginning of the year, is now facing a relatively rough headwind."
German Finance Minister Olaf Scholz told reporters ahead of a Group of Seven meeting of finance chiefs over the weekend that unilateral tariffs imposed by the U.S. are "wrong, and -- from my point of view -- also illegal."