Emerging Markets Seen Defying Dollar to Resume Multiyear Rally
(Bloomberg) -- Stronger dollar? No problem.
Emerging-market assets are far more resilient than before, according to Morgan Harting, a money manager at AllianceBernstein LP in New York.
For one, developing-nation stocks have had recent bouts of positive correlation with the dollar, Harting wrote in a blog post today. Take 2015: They rallied 9.8 percent during the first four months amid a strengthening U.S. currency, and then fell 24 percent in the rest of the year once the dollar rally stalled.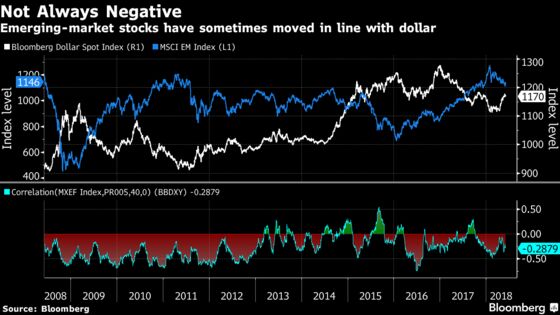 Moreover, Harting said the dollar's recent rally doesn't look all that impressive compared with other major currencies, suggesting that exchange-rate pressures will be manageable for borrowers throughout developing nations. Liquidity pressures may also be overdone as the majority of big central banks will probably maintain accommodative policies for the rest of 2018.
And for every Turkey, stung by dollar strength, there's a Chinese internet company with limited currency sensitivity, or an export-dependent firm that becomes more competitive in U.S. markets.
"Beyond the currency questions, we believe that underlying economic and earnings growth trends remain strong across most of the EM landscape," Harting wrote in his post. "This should support continued gains across EM debt and equity markets."