Banks Beat India's Monetary Authority in Raising Borrowing Costs
(Bloomberg) -- Indian lenders are raising interest rates even before any central bank action as the strongest loan demand in four years amid weak deposit growth pressures funding costs.
State Bank of India, ICICI Bank Ltd. and Punjab National Bank are among the nation's biggest banks that increased their benchmark lending rates last week. The Reserve Bank of India, on the other hand, is expected to keep its key rate unchanged for a fifth straight meeting when it decides on policy Wednesday.
Higher borrowing costs risk slowing the recent recovery in demand for credit, which was led by retail and working capital loans, said Karthik Srinivasan, group head of financial sector ratings at ICRA Ltd., the local unit of Moody's Investors Service. Moody's cut India's 2018 economic growth forecast last week, citing tighter financial conditions as a reason.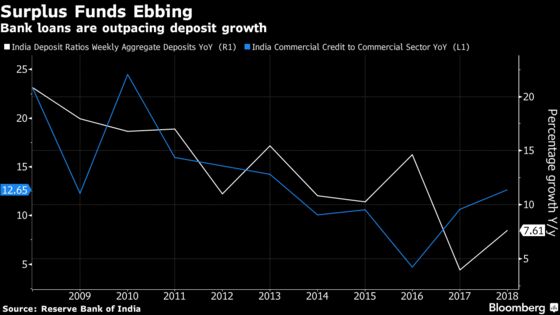 The RBI will hold its repurchase rate at 6 percent this week, according to 25 of 33 economists surveyed by Bloomberg. The rest see an increase to 6.25 percent. Accelerating inflation is forcing commercial banks to offer higher deposit rates and lure savers even though the central bank -- wary of upsetting the economic recovery after a new tax was implemented -- has chosen to hold off.
The monetary authority is expected to tighten only next quarter, the time of year when Indian companies typically increase borrowing as the government wraps up the bulk of its debt target.
Moody's estimates that India's gross domestic product will grow 7.3 percent this year instead of the 7.5 percent previously predicted.