Stocks Close at 12-Week High on Growth Optimism: Markets Wrap
(Bloomberg) -- U.S. stocks reached the highest since mid-March, tracking peers in Europe and Asia as optimism over the world's largest economy helped investors put protectionist fears to one side. Treasuries fell, pushing yields up for a fourth consecutive trading session.
The S&P 500 strengthened for a second day. Microsoft Corp. agreed to buy coding site GitHub for $7.5 billion, helping to push the Nasdaq Composite Index to a record high for the first time since March. The Stoxx Europe 600 Index climbed, while the MSCI Asia Pacific Index surged even as China warned it will withdraw from commitments it made on trade if President Donald Trump carries out a separate threat to impose tariffs on the Asian country.
"Investors have largely shrugged off the recent news of trade wars, as the concrete strength of the economy and earnings is outweighing the uncertainty from trade," said Mark Hackett, chief of investment research at Nationwide Funds Group. "Even if all steel and aluminum tariffs are implemented, and the $50 billion specific measures in China are put in effect (leading to retaliation), the economic impact is a fraction of the positives from tax reform, fiscal spending and repatriation."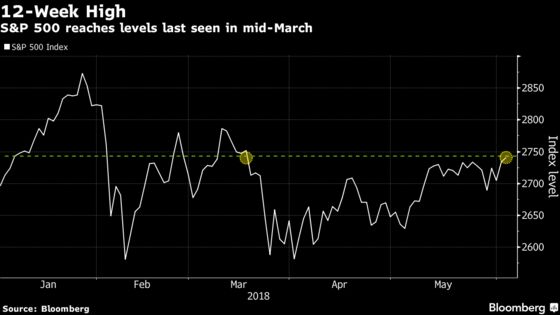 Investors are in a broad risk-on mood after impressive U.S. jobs data on Friday, which provided an upbeat end to a week that was otherwise dominated by the threat of another euro-area crisis. Much of that concern seems to have dissipated after nationalist parties finally took power in Italy, ending months of deadlock, while the Socialist led-opposition in Spain ousted Prime Minister Mariano Rajoy with a no-confidence vote Friday.
"Nothing is better for the issues about trade wars or issues about G-7 than a good economy," Omar Aguilar, chief investment officer for equities at Charles Schwab Investment Management, said by phone. "The jobs report on Friday gave a lot of people confidence that the U.S. economy is still pretty solid."
Attention may yet turn back to trade, however. G-7 leaders meet in Quebec later this week, with the European Union and Canada threatening retaliatory measures unless Trump reverses course on new steel and aluminum levies.
Elsewhere, West Texas Intermediate crude fell below $66 a barrel after an OPEC committee stressed the need to ensure supplies can meet growing demand, adding to speculation the group will phase out its production cuts.
Terminal users can read more in Bloomberg's Markets Live blog.
These are some key events to watch this week:
Reserve Bank of Australia monetary policy decision is out Tuesday.
Tesla holds its annual shareholder meeting also Tuesday.
U.S. ISM non-manufacturing index out Tuesday. Growth at U.S. service industries probably improved in May for the first time in four months, indicating the economy is strengthening after a first-quarter slowdown, economists forecast.
Reserve Bank of India rate decision on Wednesday.
U.S. trade balance and Australia GDP also out on Wednesday.
On Thursday, Japanese Prime Minister Shinzo Abe meets with U.S. President Trump at the White House to discuss the planned U.S. summit with North Korea's Kim Jong Un.
Also on Thursday, euro-zone GDP.
Turkey rate decision is due on Thursday.
G-7 Leaders' Summit starts in Quebec Friday through to June 9.
These are the main moves in markets:
The S&P 500 Index gained 0.5 percent to 2,746.87, the Nasdaq Composite Index increased 0.7 percent to 7,606.46 and the Dow Jones Industrial Average rose 0.7 percent to 24,813.69 as of 4:23 p.m. in New York.
The U.K.'s FTSE 100 Index rose 0.5 percent to the highest in more than a week.
The MSCI Emerging Market Index rose 1.5 percent.
Japan's Nikkei 225 Stock Average gained 1.4 percent to the highest in a week on the biggest rise in almost seven weeks.
The Bloomberg Dollar Spot Index fell 0.1 percent, after reaching the lowest level in almost three weeks.
The euro gained 0.3 percent to $1.1696, after touching the strongest level in almost two weeks.
The British pound weakened 0.2 percent to $1.3314.
The Japanese yen fell 0.3 percent to 109.82 per dollar.
The yield on 10-year Treasuries rose four basis points to 2.94 percent.
Britain's 10-year yield rose two basis points to 1.30 percent.
West Texas Intermediate crude fell 1.4 percent to $64.88 a barrel, the lowest in about a month.
Gold fell 0.1 percent to $1,292.04 an ounce, the third straight decline.