Emerging-Market Angst Pushes Australia Rate Bets Into Distance
(Bloomberg) -- Turmoil in emerging markets, a populist revival in Europe and the White House slapping tariffs on allies are conspiring to push bets on Australia's first interest-rate hike since 2010 even further into the distance.
While economists have mostly abandoned forecasts of a tightening this year amid stagnant real wages and tepid inflation, a worsening global backdrop has sent traders scurrying to push back bets to the second half of 2019. Reserve Bank of Australia Governor Philip Lowe is all but certain to keep the cash rate at a record-low 1.5 percent Tuesday.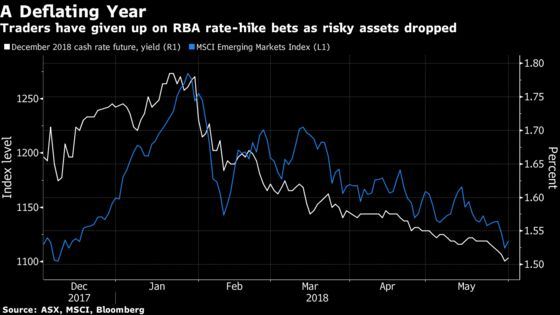 "The synchronized global growth concept seems to have some cracks," said Shane Oliver, chief economist at AMP Capital. There are "concerns about the emerging world from rising funding costs associated with the U.S., and a rising U.S. dollar; questions about Europe with the Italian problem; and then trade wars on top of that. All of these things cast a shadow over the global outlook and the market has pushed back rate expectations accordingly."
Even the potential swing factor of the currency hasn't been swinging much since Lowe and his board last met. The Australian dollar has remained in a relatively tight range in recent weeks as the prices of commodities held up. Australia is the world's most China-dependent developed economy and iron ore is the nation's biggest export.
Indeed, rising liquefied natural-gas shipments and a stabilization of resource investment probably helped the economy accelerate in the first three months of the year. Economists predict it grew 0.8 percent from the prior quarter and 2.7 percent from a year earlier, ahead of data Wednesday.
Forecasts for an RBA rate hike have fallen back as, like much of the developed world, Australian wage growth remains weak and inflation contained. The difference is that Australia's economy is still more than half a percentage point off its estimated full-employment level of 5 percent, while counterparts abroad are at or below theirs.
Global risks aside, economist Stephen Kirchner of the U.S. Studies Centre at the University of Sydney argues the central bank is too obsessed with financial stability risks at home, from high property prices and debt. He thinks there's not enough focus on returning inflation to target.
"Inflation is already in a prolonged undershoot and is expected to remain below the target mid-point over the next few years," he said. "The RBA is hanging its hat on a tighter labor market and wages to drive inflation higher, but it is actually below-target inflation that is contributing to low wages growth through low inflation expectations. The RBA has the relationship between wages and inflation backwards."