On the Brink of a Trade War, Canadian Exporters Are Maxing Out
(Bloomberg) -- Canada may be locked in a trade fight with the U.S., but the country's exporters aren't slowing down.
According to Markit's survey of Canadian manufacturers, the index for new export orders hit 55.9 in May, the highest since 2011 and compared with a five-year average of just 51.4. The gauge has risen sharply since the start of the year, suggesting demand for Canadian goods is strengthening.
It's a timely development, since another report Thursday showed the country's typically staunch consumers are showing signs of fatigue. Exports may be the just the driver the economy needs to move forward.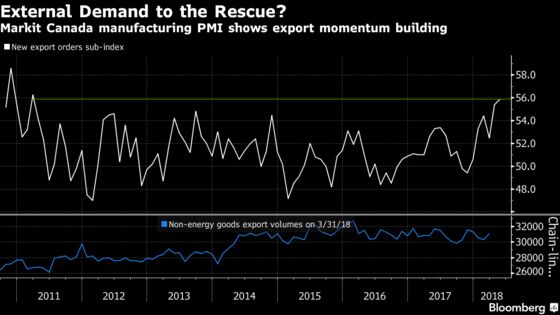 But Friday's data also adds to evidence Canada's export manufacturers are reaching their limit. Unless the sector builds more capacity, it's difficult to imagine how exports -- which make up about a third of gross domestic product -- can lead growth. In the manufacturing industry, capacity utilization rates, which show how close firms are to maximum output, are currently the highest since 2000.
The Bank of Canada flagged exporters' capacity limitations as a possible headwind. At the same time, it sees the current trade "uncertainty" with the U.S. as one reason firms may be hesitant to build-out their businesses.
That uncertainty is partly why the central bank has been slow to tighten monetary policy. Higher interest rates could further deter investment.
"Given ongoing trade policy uncertainty, some firms are waiting to invest in new capacity, while others are deciding to expand outside of Canada," Deputy Governor Sylvain Leduc said Thursday in Quebec. "This could limit exporters' ability to grow further even as foreign demand rises."
Statistics Canada is due to release the latest capacity utilization figures on June 8.