Italy in Crisis Gives Us More Bearish Nightmares: Economy Week
Italy is taking its turn at roiling global markets, momentarily scaring the bejeezus out of investors who braced for a potential exit from the euro zone amid this latest political crisis.
Central banks are struggling to balance fresh stresses with the temptation to follow the global tightening cycle. And President Donald Trump's tariffs on some of America's closest allies and the U.S.-China trade tango gave us more reason to stay on edge.
Here's our weekly wrap of what's going on in the world economy.
The long-simmering political crisis in Italy reached a full boil earlier this week, throwing global markets into turmoil before populists parties agreed to form a government on Thursday. It all gave central bankers globally a new headache. The European Central Bank has plenty of tools to help out, but Italy might not like the terms. Bank of Italy's chief warned about a crippling loss of trust, just as bond yields soared – and could be close to a breaking point. Investors are already mulling whether this means fewer Federal Reserve interest-rate hikes this year.
There was plenty more crisis talk in Stockholm during a gathering of some of the world's leading economists. Spain's bubbling tensions could mean it's the next crisis victim. German Chancellor Angela Merkel said bankers deserve blame for the flare-ups in populism, including in Italy. Venezuela's Nicolas Maduro is asking for help on how to turn around his own disastrous economy. And an embattled Pakistan probably will seek an IMF bailout.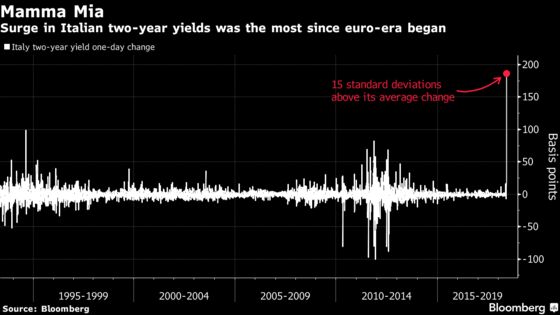 ECB Liquidity Keeps Italian Credit Crunch at Bay, for Now
The Bank of Canada held interest rates but won't be able to head off increases much longer. Even at 20, the ECB hasn't quite grown up, though at least euro-area inflation picked up in May. Denmark's experiment with negative rates is taking a hit with lower inflation projections and a Bank of Japan alumnus warns that policy makers are driving banks to excessive risks. Among the already-stressed emerging markets: Indonesia, fully in the crosshairs as one of the most debt-risky nations in Asia, raised interest rates for a second time this month, in an unscheduled meeting that marked the chief's debut decision. The Reserve Bank of India could follow next week. Turkey's showing some healing as the central bank did more damage control and brought more clarity to its interest-rate regime, reassuring markets.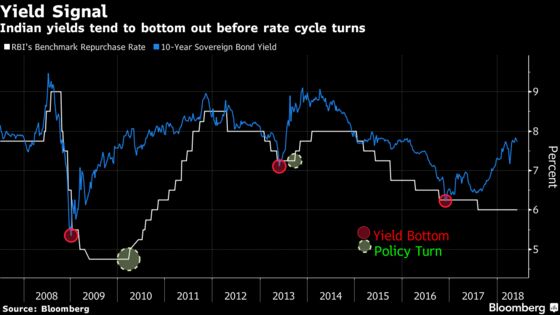 GLOBAL INSIGHT: Who Might Be Next? Charting EM Risk After Turkey
While not quite the roller coaster it was last week, U.S.-China trade drama carries on, with U.S. advisers displaying more infighting and Trump threatening more tariffs that would take effect shortly after a mid-June import-list deadline while China cuts duties. Bloomberg Economics sees the Trump talk as more noise than signal. Alaska thinks it has the answer for how to shrink the U.S. trade gap with China. Here's a timeline of the U.S.-China trade battles.
Meanwhile, the world's two largest economies are in decent shape. China's got some "May-mentum," according to Bloomberg Economics, and exports are healthy even as the government deals with longer-term challenges around shadow banking and housing speculation. U.S. consumers are happy and the jobless rate matches a 48-year low, but wages will have a hard time catching up to inflation. Canada's Justin Trudeau told Bloomberg he's skeptical that rampant U.S. fiscal borrowing can keep the good times rolling, and former Secretary of State Jim Baker says China already is the new global superpower.
After an initial waiver for its closest allies, the U.S. administration announced it's slapping tariffs on steel and aluminum imported from the European Union, Canada and Mexico. The move caused outrage at the meeting of G-7 finance chiefs and is set to prompt tit-for-tat tariffs on U.S. goods including bourbon and nail polish. The U.S. decision also adds a new wrinkle to one of its other most pressing trade files: Nafta talks with Canada and Mexico.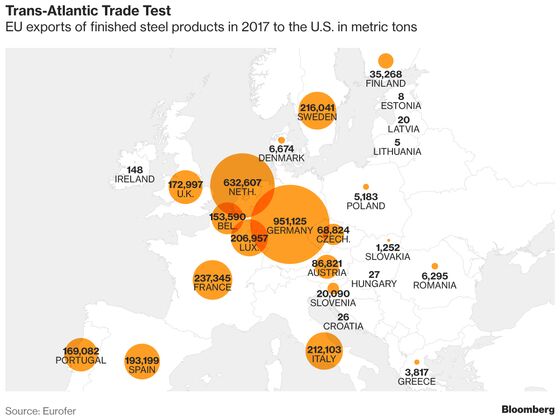 Kuroda Puts Monetary Talk Aside to Wade Into Trade Row at G-7
U.S. Consumers, Not European Steelmakers, to Bear Tariff Brunt