U.S. Consumer Spending Tops Forecasts; Inflation Holds at 2%
(Bloomberg) -- U.S. consumer spending rose in April by the most in five months and inflation held at the Federal Reserve's target, adding to signs of solid economic growth that support the central bank's plan for gradual interest-rate hikes.
Purchases, which account for about 70 percent of the economy, increased 0.6 percent from the prior month, topping forecasts, after a 0.5 percent advance that was more than previously estimated, Commerce Department figures showed Thursday. Incomes advanced 0.3 percent, matching projections.
The Fed's preferred price gauge rose 2 percent from a year earlier for a second month, though excluding food and energy, the so-called core index remained short of the goal, at 1.8 percent.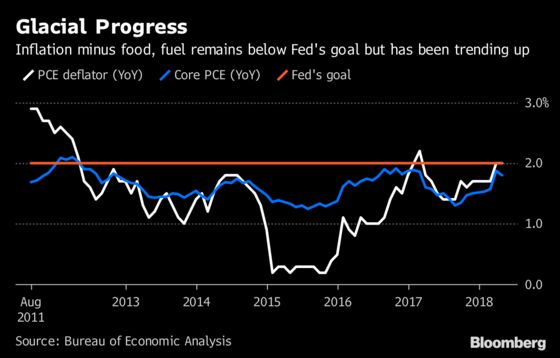 The report reinforces projections for a rebound in economic growth this quarter amid a strong job market, the lowest unemployment rate in 17 years and tax cuts that have put more money in Americans' wallets. The inflation figures are also likely to keep the Fed on track to raise borrowing costs in June for the second time this year.
Spending exceeded the median forecast in a Bloomberg survey for a 0.4 percent gain. Adjusted for inflation, consumption rose 0.4 percent, topping the median projection of 0.2 percent and following a 0.5 percent gain in March -- marking the best two-month increase since 2014. The Commerce Department said spending for gasoline and other energy goods, as well as household utilities, were leading contributors to the monthly increase in real outlays.
The Fed's preferred inflation gauge -- tied to consumption -- rose 0.2 percent from the previous month, in line with estimates. Excluding food and energy, core prices were also up 0.2 percent, slightly faster than estimated, though the annual gain in March was revised lower, to 1.8 percent from 1.9 percent.
"Things are better on the inflation front than the second part of last year for sure, but there's no upside breakout and no reason for the Fed to tighten the screws faster," Omair Sharif, a senior U.S. economist at Societe Generale, said by phone. "It's really steady as she goes. If anything, I'd be worried we haven't been able to get up to 2 percent core, and the second half will be more of a struggle."
A separate Labor Department report on Thursday showed claims for unemployment benefits fell last week by more than estimated, adding to signs that the job market remains tight ahead of Friday's monthly employment report. Initial filings dropped by 13,000 to 221,000 during the week before the Memorial Day holiday.
Fed policy makers said in their May 2 post-meeting statement that they expect to keep raising interest rates gradually, with inflation seen running near their 2 percent target over the medium term. The gauge has mostly remained below the central bank's goal since 2012.
The tax-cut legislation that took effect Jan. 1, along with delayed refunds of 2017 tax payments, are putting more money in workers' pockets. Still, wages have been rising only gradually even amid strong hiring. That's one reason some Americans may be saving less, with the saving rate declining in April for a second month.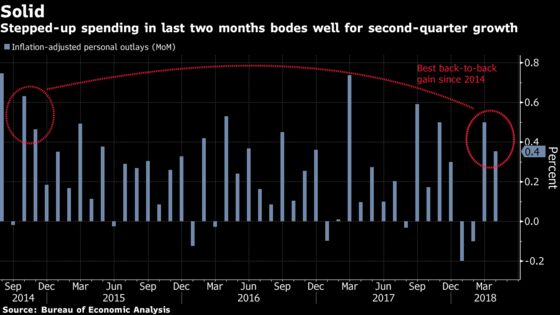 Wages and salaries rose 0.4 percent in April following a 0.2 percent gain in the prior month, the Commerce Department data showed. Real disposable income, or earnings adjusted for taxes and inflation, was up 0.2 percent for a second month.
The spending figures come on the heels of the Conference Board's latest consumer-confidence survey, showing that while Americans are optimistic about the economy, they've become slightly less sanguine about future pay increases. At the same time, consumers are still riding a wave of optimism amid a robust labor market and lower taxes, which should support further gains in household outlays in the coming months.
Saving rate fell to 2.8 percent, lowest since December, from 3 percent
Durable goods spending, adjusted for inflation, rose 0.3 percent after a 1.9 percent increase in the prior month; nondurable goods advanced 0.4 percent for a second month
Household outlays on services, adjusted for inflation, rose 0.4 percent after a 0.3 percent gain in prior month