U.S. Consumer-Spending Pickup Adds More Juice to Second Quarter
(Bloomberg) -- April's bigger-than-expected gain in U.S. consumer spending put the economy's projected second-quarter rebound on track to be even stronger.
Purchases, which account for about 70 percent of the economy, increased 0.6 percent from the prior month, topping forecasts, after a 0.5 percent advance that was more than previously estimated, Commerce Department figures showed Thursday. Adjusted for inflation, consumption had the best two-month advance since 2014.
The report lifted economists' quarterly growth estimates for a second day, following favorable data Wednesday on trade and inventories. With inflation holding at the Federal Reserve's 2 percent target, the figures are also likely to keep the central bank on track to raise borrowing costs in June for the second time this year. At the same time, economists expect growth to cool later in 2018 amid the fading impact of tax cuts, while tariffs and trade tensions also pose risks.
Gains in consumer spending were "fairly broad-based in April," said Sal Guatieri, a senior economist at BMO Capital Markets, who increased his projection for second-quarter growth to 3.2 percent from 2.8 percent after Thursday's data. "It's not like we'll see spending drop off a cliff in the second half, but we will see some slowing in consumer spending, largely among lower-income households."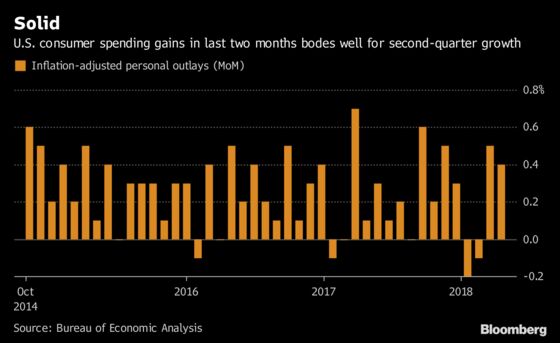 Barclays Plc economists boosted their second-quarter growth estimate on Thursday to 3.3 percent from 3 percent, while Macroeconomic Advisers by IHS Markit raised its projection to 4 percent from 3.6 percent. The Atlanta Fed's GDPNow tracker jumped to 4.7 percent from 4.1 percent two days earlier.
April's spending exceeded the median forecast in a Bloomberg survey for a 0.4 percent gain. Adjusted for inflation, consumption rose 0.4 percent, topping the median projection of 0.2 percent after a 0.5 percent gain in March. The Commerce Department said spending for gasoline and other energy goods, as well as household utilities, were leading contributors to the monthly increase in real outlays.
The Fed's preferred price gauge rose 2 percent from a year earlier for a second month, though excluding food and energy, the so-called core index remained short of the goal, at 1.8 percent and the March gain was revised lower to 1.8 percent as well. The headline and core indexes both rose 0.2 percent from the previous month, in line with estimates.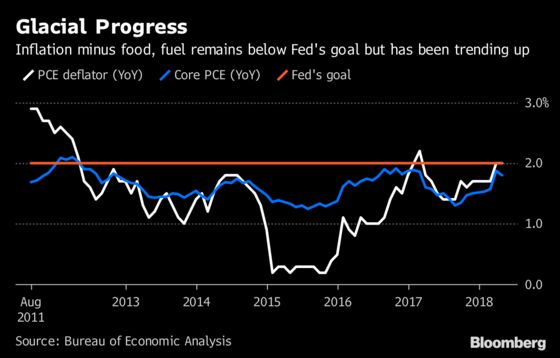 "Things are better on the inflation front than the second part of last year for sure, but there's no upside breakout and no reason for the Fed to tighten the screws faster," Omair Sharif, a senior U.S. economist at Societe Generale, said. "It's really steady as she goes. If anything, I'd be worried we haven't been able to get up to 2 percent core, and the second half will be more of a struggle."
What Our Economists Say
As long as personal income growth is accelerating and the savings rate remains low, the income trend should support stronger consumer spending and, ultimately, faster inflation. The April spending data confirmed that consumers were only temporarily constrained in the first quarter. Bloomberg Economics has long held the view that just as the inflation soft patch of 2017 proved longer and deeper than many forecasters expected, so too will the rebound in 2018 prove to be surprisingly sluggish.

-- Carl Riccadonna and Niraj Shah, Bloomberg Economics

Read more for the full reaction note from Bloomberg Economics.
Even so, the spending figures show economic momentum at the moment ahead of the Labor Department's May jobs report, due Friday. That's projected to show employers added 190,000 workers during the month, well above what economists say is needed to push down the unemployment rate, which is already at a 17-year low.
A separate Labor Department report on Thursday showed claims for unemployment benefits fell last week by more than estimated, adding to signs that the job market remains tight. Initial filings dropped by 13,000 to 221,000 during the week before the Memorial Day holiday.
Meanwhile, an index of business in the Chicago area rose to a four-month high, joining other indicators of regional strength in May.