Imperial Professor Haskel Appointed to BOE Rates Committee
(Bloomberg) -- Jonathan Haskel will join the Bank of England's Monetary Policy Committee in September, giving it an expert in an issue that has vexed officials for years.
The Imperial College Business School professor will replace Ian McCafferty, who is known for voting for tighter policy. He begins a three-year term on Sept. 1, according to the Treasury. Oxford Economics said he's likely to be more dovish than his predecessor.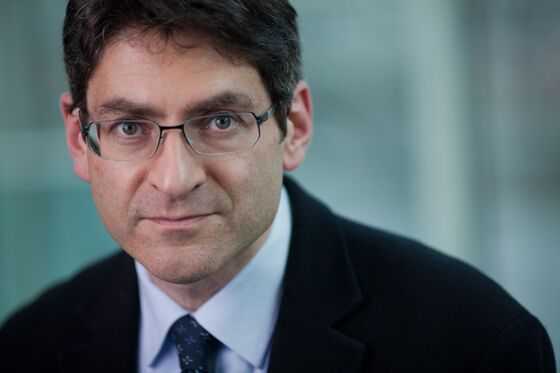 Haskel, who received his PhD from the London School of Economics, is known for his work on productivity. Economists have been struggling to explain why output per hour has failed to return to its pre-crisis growth rate. It's a crucial topic for policy makers, since sluggish productivity means the economy has less room to grow than it did in the past without generating inflation.
"I am delighted to welcome Jonathan Haskel to the Monetary Policy Committee and am very much looking forward to working with him," BOE Governor Mark Carney said in a statement. "His broad academic experience and the depth of his knowledge on productivity and innovation will be hugely valuable to the Committee."
However, the appointment undercuts the BOE's diversity goals. The central bank has been trying to increase the number of women in high-profile roles. With just one female rate-setter currently, choosing Haskel is seen by many as a missed opportunity. Four women and one man were shortlisted for the interview.
"It is truly staggering that the Treasury has failed to appoint a women to this role," said Rachel Reeves, a Labour lawmaker and chair of the House of Commons Business Committee. "There are plenty of capable and well-qualified women but yet again the top jobs seem to be reserved for men."
In the initial application stage, eight contenders were women and 19 were men, the Treasury said. The interview panel included Clare Lombardelli and Richard Hughes from the Treasury, as well as Kate Barker, who between 2001 and 2010 was one of the eight women to serve on the MPC in its 21-year history. They made recommendations to the chancellor.
Grilled about the lack of female policy makers, Chancellor of the Exchequer Philip Hammond said last year that the Treasury must "first and foremost" find a candidate with strong enough qualifications. "We're not talking about giving people a chance, we're talking about recruiting people who are already recognized as global leaders," he told lawmakers.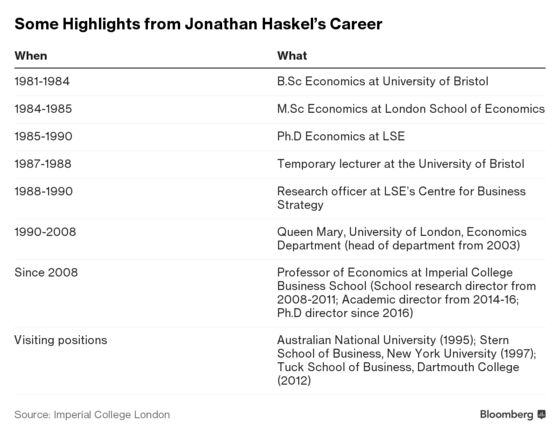 Haskel, who maintains a blog on economics, will continue to teach part time at Imperial. He's a non-executive director of the U.K. Statistics Authority and has expertise in intangible assets -- for example investments in things like data, design, branding, marketing and research and development -- that can't be measured in traditional ways.
He spoke at a Bank of England conference earlier this month about challenges in measuring the modern economy, as the Office for National Statistics reviews how it can improve its data on services, trade and the digital economy.
His recently published book, Capitalism Without Capital, argues that a large portion of the value of modern businesses lies in intangible assets. That has implications for the economy as well as society, the book says, and could explain why those who aren't benefiting from the intangible economy voted for Donald Trump or Brexit.